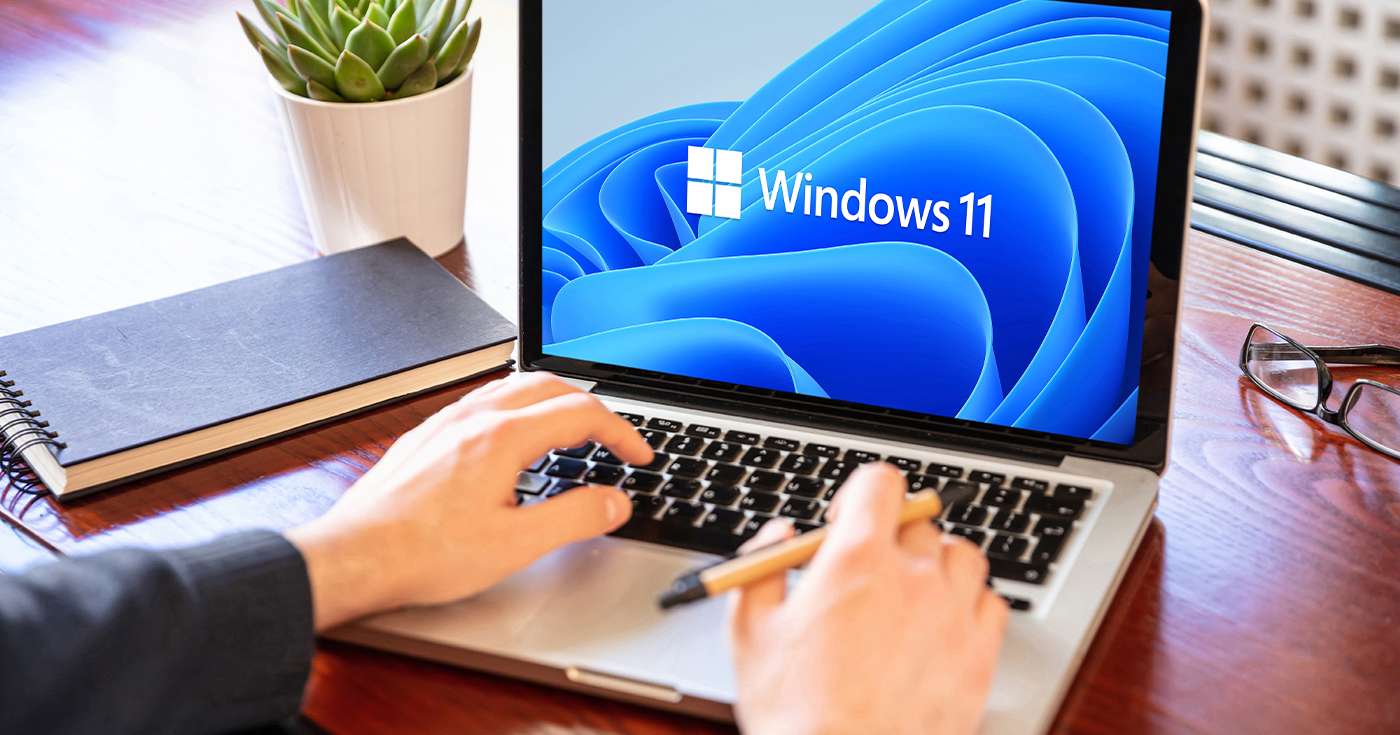 Photo Credit: rawf8 / Shutterstock.com
Executive Summary
After much speculation about the future of the flagship Microsoft Windows operating system, the Redmond-based technology company has finally shipped the latest version: Windows 11.


Windows 11 is a free upgrade for anyone who already owns Windows 10, leading many people (and businesses) to wonder whether, and when, they should upgrade to the new platform.


But what exactly does Windows 11 bring to the party? Is it better than Windows 10? Does it have any killer features? We'll go through the basics of Windows 11 from top to bottom in this essential beginner's guide.

Introduction
Windows 11 is finally here.
Despite rumours of the operating system never seeing the light of day – and even Microsoft themselves assuring the world that Windows 10 was their OS swan song – the new operating system arrived on October 5th 2021.
If your computer already uses Windows 10, and it meets the system requirements (which we'll outline shortly), you should find a button in the Windows Update section which will allow you to upgrade and start using Windows 11 today.
But let's take a step back for a moment.
What if this is the first you're hearing of Windows 11? Or you simply want a bit more info before you lock in an all-new operating system? Well, if that's the case, this guide is made for you.
Let's take a deep dive into the new (and not so new) features of Windows 11 and how they might help you and your business be more productive.
Part I: Installing or upgrading to Windows 11
Before we can delve into the latest and greatest features which Windows 11 brings with it, let's first consider step one: getting the thing up and running.
If you're already running Windows 10, there's a good chance you'll be just fine to upgrade to Windows 11, but if you aren't sure, here are the official spec requirements:
1GHz+ 64-bit dual-core CPU
4GB RAM
64GB storage
Graphics card (GPU) with support for DirectX 12 or later
At least 720p screen greater than 9' diagonally
Support for TPM 2.0 (Not familiar? Here's the lowdown)
If all of is still too much technical jargon, you can also check whether your computer will support Windows 11 by going to the official specifications page, scrolling to the bottom, and clicking "Check for compatibility". This will install the PC Health Check app which will give you the info you need.
In terms of actually downloading the new operating system, you've got a couple of options.
First, you can simply navigate to the Windows Update screen in Windows 10 and click "Check for updates". Microsoft is rolling out the OS quite slowly across different regions, so if you're eligible, you'll see the option there to download and install it.
Next, assuming Windows 11 hasn't been automatically offered to you yet, you can also download it directly from Microsoft. Just go to the official Windows 11 download page and click the button to download the Windows 11 Installation Assistant. From there, you're off to the races.
Part II: The new Start Menu and Taskbar
With the technical requirements out of the way, let's now move on to the nuts and bolts of Windows 11: the new and improved features.
We're focusing this section on the new Start Menu and Taskbar experience, but in truth, Windows 11 has received an almost complete visual refresh across the board. It's a design ethos which has been ported across to the Microsoft Office apps, too.
Upon logging in to Windows 11 for the first time, the most glaring change you'll notice is likely to be the new Taskbar.
For decades, Windows operating systems have had the Taskbar start from the lower left corner (yep, with the Start button) and start to fill up in a rightward direction from there. With Windows 11, that's changed. Now, inspiration has clearly been taken from Apple's macOS system, because the Taskbar is centred at the bottom of the screen. When you open an app, its icon is added to this centred group and a small dot appears below the icon of any open application – just like on macOS. It's worth noting here that if you really miss the old position of your Taskbar, you can still set it to be left-justified like the good old days.
The first icon on the centralised Taskbar is always the Start button: now a blue, squared-off Windows logo. Clicking this button will introduce you to the next change – the Start Menu.
The Windows 11 Start Menu has been simplified and streamlined since its Windows 10 iteration. The main focus of the menu is now the search bar, which appears right at the top. Typing here will allow you to search through apps and files, including those located in cloud locations via Microsoft OneDrive.
Below the search bar, you'll see your pinned apps. Here, you can permanently stick the apps you use most to the Start Menu for easy access. You can also click the 'All apps' button to scroll through your installed applications just like previous versions of Windows.
The last part is the 'Recommended' section, which is more of a fresh concept. This section will aim to suggest to you the files which you might need next, based on your recent usage history in the OS.
Part III: Multitasking with Snap Layouts and Snap Groups
Just as the name suggests, Windows 11 is built on the concept of jumping between multiple windows at once in a streamlined way in order to maximise your productivity.
If you're familiar with Windows 10, you're likely already used to using shortcuts like ALT + Tab to switch from one active window to another. While all of these time-saving shortcuts are still present in Windows 11 (so your muscle memory is safe), Microsoft has added a couple of new ways to boost your window management: Snap Layouts and Snap Groups.
Snap Layouts are best explained with an example. Imagine you're working on a document which requires multiple other sources for reference. As you're working through the task, you find yourself opening multiple windows: Microsoft Word, your browser, perhaps Notepad, an image preview, and so on. In previous iterations of Windows, you'd naturally either click on these other windows or use the shortcuts mentioned above to jump between them.
With Snap Layouts, you have another option.
To use Snap Layouts, simply hover over the 'maximise' button in the upper-right of any windows in Windows 11. You'll then see a small overlay appear with selectable grid diagrams. Each of these diagrams represents a different layout for the windows you have open. Hover your mouse over one of the sections of the grid, then click it – this will snap that window to that location. It will also create outlines for the other available windows in the layout and show a preview of your remaining windows. Simply click the one you want in each section of the layout and boom – you've got a layout that works best for you. You can even resize each section by hovering your mouse over the connecting lines between each one.
Another feature which dovetails with Snap Layouts is Snap Groups.
While you're using a Snap Layout, simply look at the Taskbar and hover your mouse over one of the apps in the layout. You'll then see a preview of the individual app and the group layout. Right-click on the group preview and you'll see a few different options, including the ability to minimise all the apps at once
Part IV: Integrating your Microsoft 365 subscription (including Teams)
This wouldn't be a Get Support blog post without mention of our favourite cloud-based productivity suite: Microsoft 365.
In this case, however, mentioning 365 is highly relevant — because Windows 11 has been built with the 365 infrastructure in mind.
To connect your Microsoft 365 account, simply navigate to Settings > Accounts > Email & Accounts. Once linked up, Windows 11 will be able to access the various resources enabled by your Microsoft 365 subscription. This will include Microsoft OneDrive, which comes pre-installed with all instances of Windows 11. From the File Explorer, look to the left-hand menu and you'll see your OneDrive folder listed already. Not only that, but when you search from the Start Menu search bar, your OneDrive hosted files will now be included by default.
Windows 11 doesn't come preinstalled with other Office apps, like Word and Excel, but you can easily download and install them – and you'll notice that they now share the Windows 11 Visual Refresh design style.
Before we move on, we need to talk about Microsoft Teams.
As of November 2021, the built in Teams Chat feature – which gives you instant access to all of your ongoing chats – is, at least for now, only available for personal Microsoft accounts. So, while it's great to have access to Teams Chat from a dedicated button on the Taskbar, for business users, it doesn't yet make much sense to get excited about it.
If this changes in the future, you can be certain that the Get Support blog will let you know – so watch this space.
Part V: Using Windows 11 Widgets
Another Windows 11 feature which has certainly seen some influence from Apple is the new Widgets pane.
Just like the Control Centre on macOS and iPhones, opening the Widgets pane in Windows 11 will give you quick access to the information you need most frequently. Widgets can be entirely customised to suit your particular tastes or workflow. You can access your Widget pane in a few different ways in Windows 11:
Click the Widget icon on the Taskbar. This is a square blue icon with some lighter rectangles inside it.
Swipe from the left of the screen. If you're on a touch display, of course. If not, you might get some funny looks.
Use the shortcut Windows Key + W. This is probably the fastest way to launch the panel and see your widgets.
In terms of the types of Windows Widgets you have on offer at launch, the list is fairly thin on the ground at present:
Calendar
Photos
Traffic / local area map
To Do (which is a widget version of Microsoft To Do)
Weather
Tips
Once Windows 11 has rolled out more widely, Microsoft will add more widgets, with third parties also gearing up to create their own. For example, Windows 11 currently has a media widget which will display the song or video you're currently playing and give you some basic controls, but in future you could expect a Windows 11 widget for Spotify which would be more feature-rich.
To learn more about Windows Widgets and how they can be used to make you more productive (or at least informed) when working with Windows 11, be sure to check out our dedicated Feature Focus article.
Part VI: A quick word about Android Apps
Another feature which we've covered before as part of our Feature Focus series is Android apps being available to install and run natively on Windows 11 via the Windows Store.
For that reason, we won't go into great detail here, and instead just give you the key takeaways for this feature as a beginner with Windows 11:
Microsoft is making a growing library of Android mobile apps available for installation on Windows 11 via the Windows Store using an embedded version of Amazon's Appstore.
As of November 2021, this feature is still in beta and is available only to Windows Insider members. There are currently 50 apps available for download and testing by Insiders.
Microsoft is doing this because there remain several popular apps which haven't had a native Windows app available in the past. This list includes The Washington Post, Clash of Kings, and more.
Android apps running on Windows 11 will support the complete feature set of the operating system, including mouse, pen, or touch input, Alt + Tab shortcutting, Snap Layouts, and more.
When you're ready, the Get Support team will be here
We know it's a big decision to upgrade to a new operating system, so if this beginner's guide has still left you with questions about whether or not you should pull the trigger, we can help.
We've put together a comprehensive list of pros and cons to upgrading to Windows 11 with a focus on businesses, so be sure to check it out.
Once you're ready to make the leap, just get in touch with our team of IT experts, who can help you get up and running with Windows 11 in no time. Not only that, but we can also help you get going with Microsoft 365 if you're not yet on board.
To talk to the IT experts at Get Support today, just give us a call on 01865 594 000 or fill in the form at the bottom of the page.