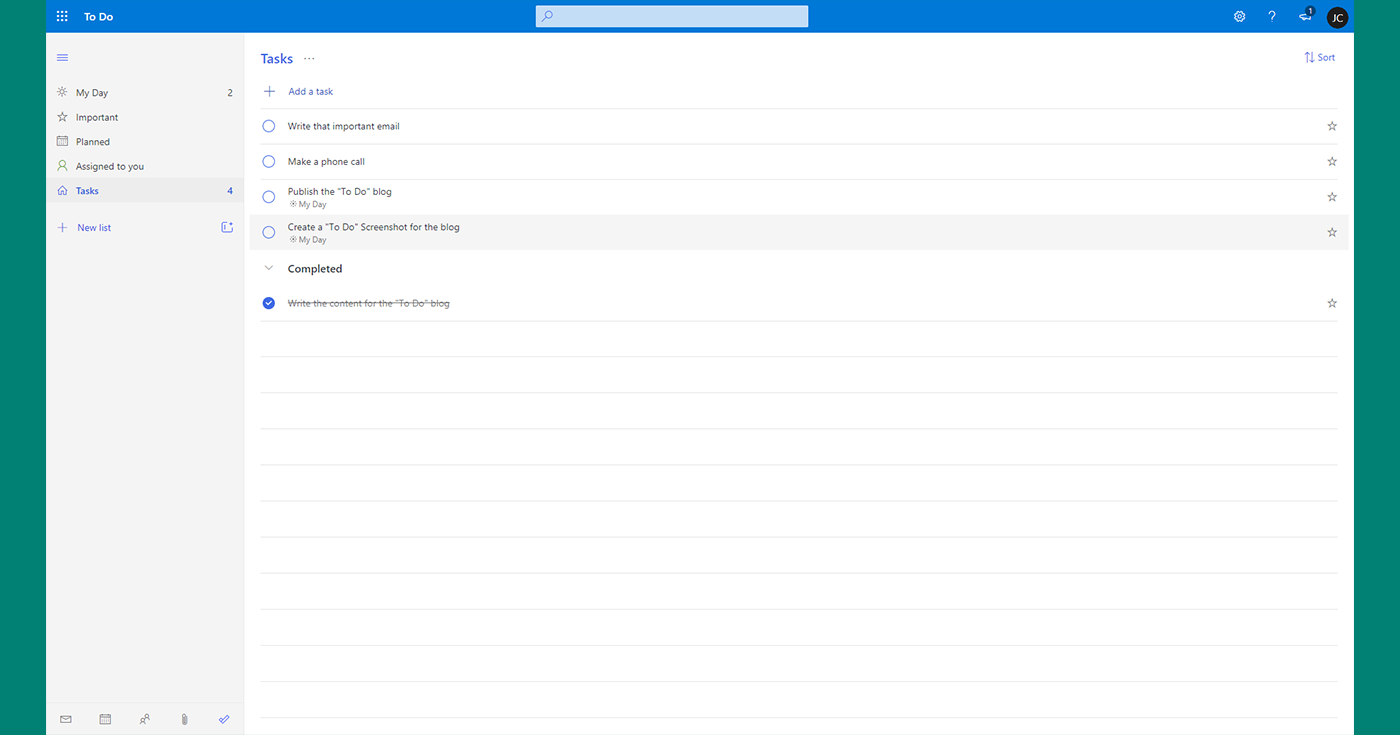 Executive Summary
Our What's That App? series on the Get Support blog delves into the detail of those lesser-known apps, many of which are available with Microsoft 365.
In this edition, we'll introduce you to Microsoft To Do.
As the name implies, Microsoft To Do is a cloud-based digital to-do list which helps you track your outstanding tasks and tick them off as you complete them. It's available in your web browser or as a standalone app for Windows, Mac, iOS or Android.
Introduction
When's the last time you jotted down a reminder on the back of your hand?
With digital technology all around us, it seems like our jotting days might be numbered – but there are plenty of better options out there.
One such option is Microsoft To Do, a cloud-based task management app available either standalone for free or as part of all Microsoft 365 subscriptions. It's designed to help keep your day-to-day life organised, allowing you to create lists for home, work, and play.
So, without further ado, let's see what else Microsoft To Do could do for you.
What is Microsoft To Do?
If the name isn't a big enough clue, Microsoft To Do is a cloud-based task management app.
It's essentially a digital to-do list, allowing you to create lists of the things you need to do, then check them off as you complete them.
Well, that's the short version anyway.
There's a lot more to Microsoft To Do than simple checklists. Here are the key features:
Access your lists anywhere, anytime access via web browser, dedicated desktop apps for Windows and Mac, and mobile apps for iOS and Android.
Share your lists with (or even assign tasks to) your colleagues.
The "My Day" feature uses smart technology to suggest which tasks you should tackle first.
Break down big tasks into more manageable chunks with sub-tasks.
A brief history of Microsoft To Do
Microsoft has a history of acquiring tech companies then merging the tech into their own platforms, and Microsoft To Do is no exception.
In fact, Microsoft To Do was originally known as Wunderlist.
As you might imagine, Wunderlist was a cloud-based task management application. Originally launched in 2011 by a Berlin-based start-up, Wunderlist was eventually acquired by Microsoft in 2015. (At the time, Wunderlist had more than 13 million users, so it's no surprise it caught the tech giant's eye.)
Following the acquisition, Microsoft announced in 2017 that Wunderlist would slowly be phased out and replaced with Microsoft To Do. This came to pass in May 2020, when Wunderlist shut down for good – although users can still import previous data into Microsoft To Do.
How to start using Microsoft To Do
Unlike some of the apps we've covered in the What's That App? series, Microsoft To Do is available as a standalone app entirely free – just head to to-do.microsoft.com and you're off to the races.
That said, if you're a Microsoft 365 subscriber, you'll already have access to Microsoft To Do as part of your subscription. Even better, you'll enjoy the following additional features as part of the 365 integration:
Your task lists and reminders can be synced between To Do and Microsoft Outlook, making it easier to manage your working day with 365.
All your task data is hosted by Microsoft and protected by the world-class security policies of 365.
Add to your To Do list directly from other 365 apps, including Microsoft Planner, or even with your voice via Cortana.
Not yet a Microsoft 365 subscriber? Now's the time.
While Microsoft To Do is available as a standalone app, it's even better when combined with the Microsoft 365 suite.
If you haven't yet explored what's possible with 365, we can help.
It's so much more than the classic Office apps – Word, Excel, and PowerPoint – as our What's That App? series proves. We've covered everything from an internal social network to your very own video streaming platform.
Want to know more? Call the team anytime on 01865 59 4000 or just pop a few details in the form below and our expert team will be in touch.