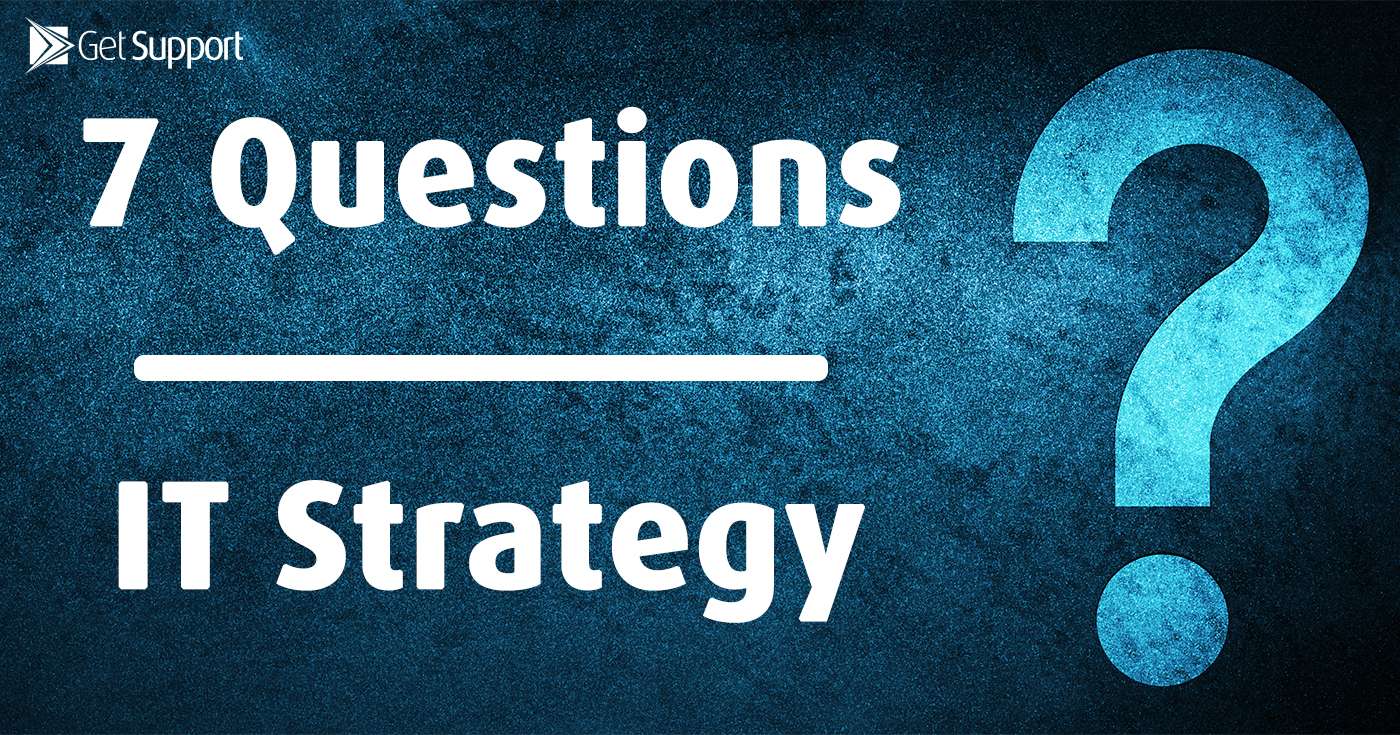 Executive Summary
2022 is finally here, giving UK small businesses the perfect opportunity to review their IT support strategy as we head into the new year.

If you're wondering which questions you should be asking in order to make the most of 2022, our expert team of IT specialists has you covered.

In this article, we'll share 7 critical questions which small businesses should be asking their Managed Service Provider or in-house team about their IT support strategy this year.
Introduction
The tinsel is back in the loft and the hoover's stuffed with pine needles, which can mean only one thing: another new year is upon us.
There's no doubt that 2020 and 2021 came with their share of challenges for small UK businesses, but 2022 is a clean slate. With the right strategy — especially around IT support — businesses can find new ways to thrive in the new normal of hybrid working in a post-pandemic world.
So, whether you're working with an IT support provider or have an in-house team, here are 7 questions you should be asking now which will help set you up for a successful 2022.
"How is my data being protected from cyber attacks?"
Cyber security was a big focus for the Get Support team in 2021, and that trend shows no signs of stopping as the new year begins.
With certain types of cyber attacks (specifically ransomware) doubling in prevalence in 2021, there's no doubt that cyber criminals will continue their attempts to breach business defences.
With this in mind, the question you should ask your IT support team is around the measures in place to protect your data, your users, and your clients when interacting with your company.
"Is my hardware up to the task for 2022?"
If 2020 and 2021 taught us anything, it's that good business depends on good technology systems, and that includes hardware.
Desktops, laptops, phones, tablets, or anything else — all of these are now the tools where most of a company's day-to-day work takes place. With the rise of hybrid working, ensuring employees have the tools they need to remain agile and flexible in their work is essential.
This is why it's so important to have a hardware roadmap in place, covering each of your core business functions as well as the needs of individual team members.
"Is my IT strategy aligned with my business goals for the year?"
It's easy to see IT as something separate from your core business; something which supports it but doesn't necessarily contribute directly to its success.
But, in a digital-first world, it seems clear that IT is becoming a core business unit across all industries. The right IT strategy can enable remote working, remove bottlenecks, improve job satisfaction, boost productivity, and much more. To do that, though, you'll need to ensure that your IT roadmap is aligned with your business roadmap.
For example, if you want to generate more sales, you might want to invest in CRM software to track opportunities. Or maybe you want to raise employee productivity? In that case, perhaps an eLearning course would do the trick.
Whatever your goal, there's a tech-based solution to help you achieve it – and a solid IT strategy will be your guide.
"Is my IT strategy future-proof?"
Almost every business dreams of having technical solutions which are simply 'set and forget'. That is, you just assign computers, tell your employees what to do, and watch the profits roll in. In reality, of course, we all know this simply isn't possible.
Computers age and slow down; employee skills get rusty; cyber attacks happen.
So how do you insulate your business against the attrition of time itself? In truth, the only way tackle these things is to plan for their inevitability. This is why, as part of our IT support agreements, we offer an 'IT Director' service which helps business plot out the road ahead – and how IT can help smooth out the journey by predicting key milestones.
"Is our business software robust enough to support our goals?"
We've talked a lot about hardware for this new year's guide, but there's a flipside to that coin: software.
Of course, in 2022, business software operates a little differently to the past, with options like SaaS, PaaS, DaaS, and more making the process muddier than it needs to be. In our view, the best approach for most small businesses is to rely on a centralised system which can support your core business units, as opposed to scattering functions across platforms.
So, instead of using Slack for chat and Gmail for email, you'd instead use Microsoft Teams and Outlook as part of the Microsoft 365 suite. That way, it's just one login and one tech infrastructure for everything.
By unifying your software strategy in this way, you can save time on support and money on paying multiple subscriptions. You can also instantly unlock apps to help task management, email, cloud storage, user management, word processing, number crunching, and so much more. That's our definition of robust.
"Can my IT support strategy scale with potential business growth?"
Deploying a successful IT strategy is about serving the technology needs of your business today, but you need to think beyond the short-term too.
Beyond the future-proofing we discussed above, you also want to make sure your IT setup is scalable on a day-to-day basis. For example, the five computers a small business has right now might be just fine — but what happens when two new starters begin work? Scalability means the ability to quickly set up user accounts, deploy necessary hardware, configure security policies, and more.
The right IT support agreement will help you stay agile when you experience the growth all businesses are chasing.
"How prepared is my IT strategy for unexpected changes?"
Remember late 2019? Or even early 2020? Back then it felt like everything was ticking away nicely, with everyone in their offices and all systems go.
Then, the global pandemic struck, and everything changed – including the world of work.
We've covered this in some depth before on the Get Support blog, but we believe it's an essential topic to broach with your IT support team because it could be a real lifesaver. As the old saying goes, better to have a disaster plan and not need it, than to need it and not have one.
So, bearing the lessons of the last two years in mind, be sure to put a contingency plan in place should a global event of this scale ever happen again.
Start as you mean to go on with Get Support
Want 2022 to be your year? If so, we'd love to help you get there.
With over two decades of experience as a team (and a combined experience of much more), the Get Support team is ideally placed to help you make the most of your IT infrastructure.
Whether it's adapting to a new work culture following catastrophic global events, or simply helping manage new starter user accounts – we're here to help on every front.
To learn more about our IT support agreements, or simply to find out how your current IT support strategy could work better, call us today on 01865 594 000 or just fill out the form below.