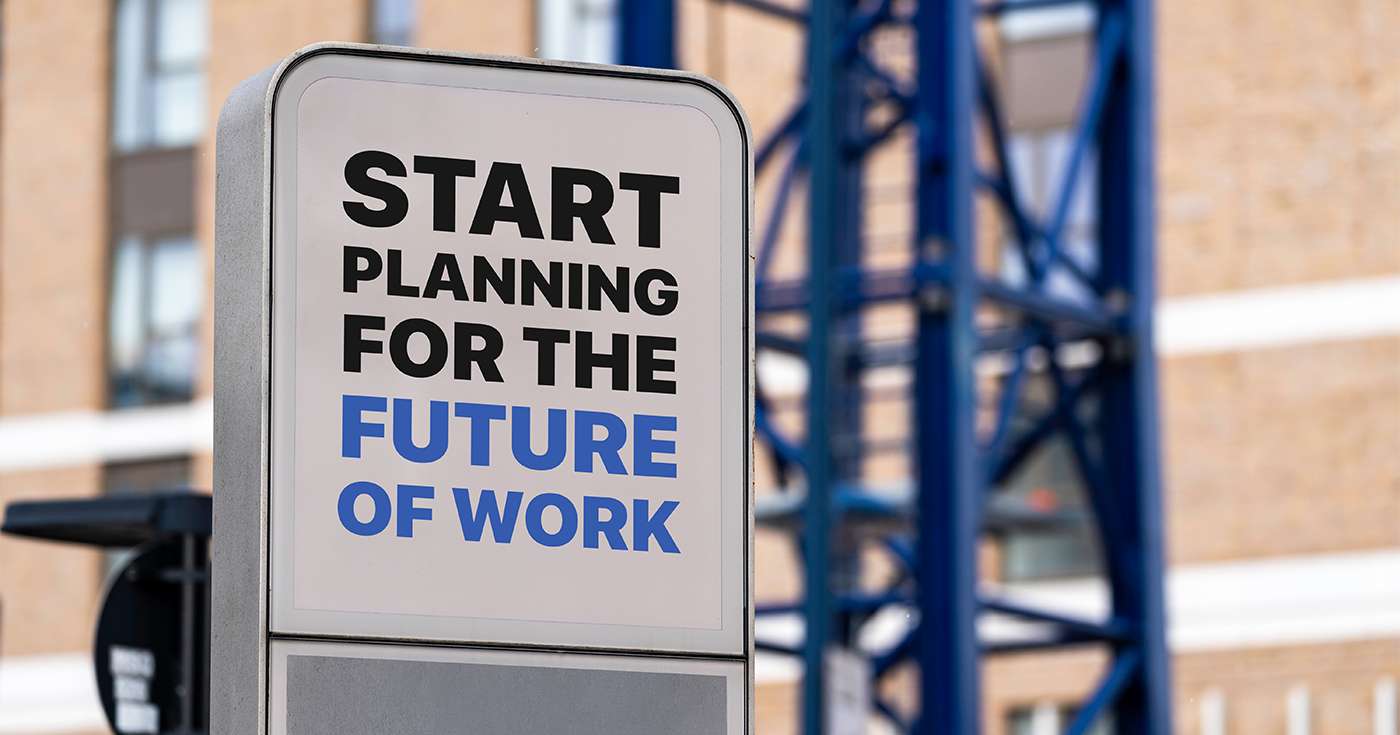 Executive Summary
The global pandemic presented businesses with no option but to offer some form of remote working, and now that offices are reopening, the question of what work looks like post COVID-19 is rearing its head.
With most employees expressing a desire to do at least some of their work from home, it's important that businesses decide whether they can support a so-called "hybrid working" model, with some days spent at home and others at the office.
In this guide, we'll explain how to adapt to a hybrid working model and which IT support measures you should put in place to keep your employees productive and cyber-secure.
Introduction
There's no longer any question about it: the world of work has changed.
Back when the global pandemic began in March 2020, none of us could have predicted just how deeply it would impact every aspect of our lives — or for how long.
For a while, it seemed the change to working arrangements might last just a few weeks. In reality, of course, over 18 months later, many UK businesses are implementing "hybrid" working arrangements to enable a blend of home and in-office working.
But how can your business make this happen from a practical standpoint? And how will you ensure reliable IT support and cybersecurity while also enabling employees to work flexibly?
Here's how.
What does "hybrid working" really mean?
The COVID-19 pandemic presented most UK businesses with a simple choice: adapt or face severe operational difficulty. Naturally, most companies went for the former option and began making arrangements to switch to a work-from-home model. This meant that everything from IT support systems to everyday meetings had to be pivoted to a more remote structure.
Now that employees are returning to work, it seems that they've discovered the real benefits of working-from-home – and that has given rise to the hybrid working model.
Essentially, this model proposes that employees spend some of their time working from home, and some working from the office. The precise split is a choice for each business to make, but the stats don't lie: most people want to do at least some of their work from home after the pandemic.
How to migrate to a hybrid working model – a checklist
If you're not sure how to begin making the move to a hybrid working framework, here's a quick checklist to help:
Get your team's buy-in first. While polls suggest that most people want to move to a hybrid way of working, every business is unique – and polls are, famously, often wrong. Before you switch to a fully hybrid model, it's always a good idea to host an all-hands to discuss the idea and gauge the response. This is also the best time to decide as a team how the split of office vs. home working will function within your business.
Equip your team with the necessary home working hardware. You may already have taken care of this item, but it's important to ensure your team has adequate equipment for home working. This includes a laptop or computer and potentially even office furniture.
Ensure your team has access to the digital collaboration tools they need. Many businesses are finding that platforms like Microsoft Teams continue to be an invaluable central resource for work, even when employees are split between the office and at home. To make the hybrid model work for everyone, you should be sure teams have access to cloud-based systems like Teams, OneDrive, and even Remote Desktop.
Update your policies (and let everyone know). Such a fundamental change in working will usually mean hiccups and problems are inevitable – but it can also open the door to security threats if employees aren't given correct guidance. Be sure to establish new policies around IT support and cybersecurity (more on this in a moment), and even set expectations around digital presence to lower stress when employees are at home.
Have a plan for maintaining your office culture. One of the biggest things to suffer during the work-from-home months was a lack of social interaction with colleagues. If you're going to move to a hybrid model, this issue may persist, so it's a good idea to get ahead of it by planning regular team-building catch-ups or in-person events to maintain a sense of comradery and culture.
IT support, cybersecurity, and hybrid working
Making the switch to a hybrid working model isn't necessarily a big adjustment for many UK businesses, especially after 18 months or more of adapting.
That said, there some key considerations and practical concerns which need to be addressed before flicking the switch:
Make sure your team is familiar with your latest cybersecurity policies around preventative measures such as multi-factor authentication and password strength.
Review your cybersecurity policies with home-working in mind, on the understanding that outside networks will be accessing your network more frequently. If you need a refresher on the basics, check out our guide to Cyber Essentials.
Familiarise yourself with the various cybersecurity options available for businesses with a distributed workforce. This includes handy tools like Microsoft Intune, Microsoft Defender, an Endpoint Detection and Response platform, and more.
If you're partnering with an IT support provider like Get Support, be sure to discuss your plan for hybrid working. This will help the external team deliver the best possible support to your team whether they're on a workstation in the office or have a laptop problem while working remotely.
Ready to go hybrid? We're here to support you
At Get Support, we've spent decades supporting businesses of all sizes across the UK with remote IT support which is a perfect fit for the hybrid model.
Our IT support agreements cover your business for day-to-day remote or on-site support, hardware consultation, long-term IT strategy, provisioning and deployment of the essential cloud-based remote working tools, and much more. Even better, you can get it all at a low monthly rate with no iron-clad long-term contracts.
Ready to partner up with a Managed Service Provider who can lay the foundation for your hybrid working model? Cal us today on 01865 59 4000 to get started — or just fill in the form below.