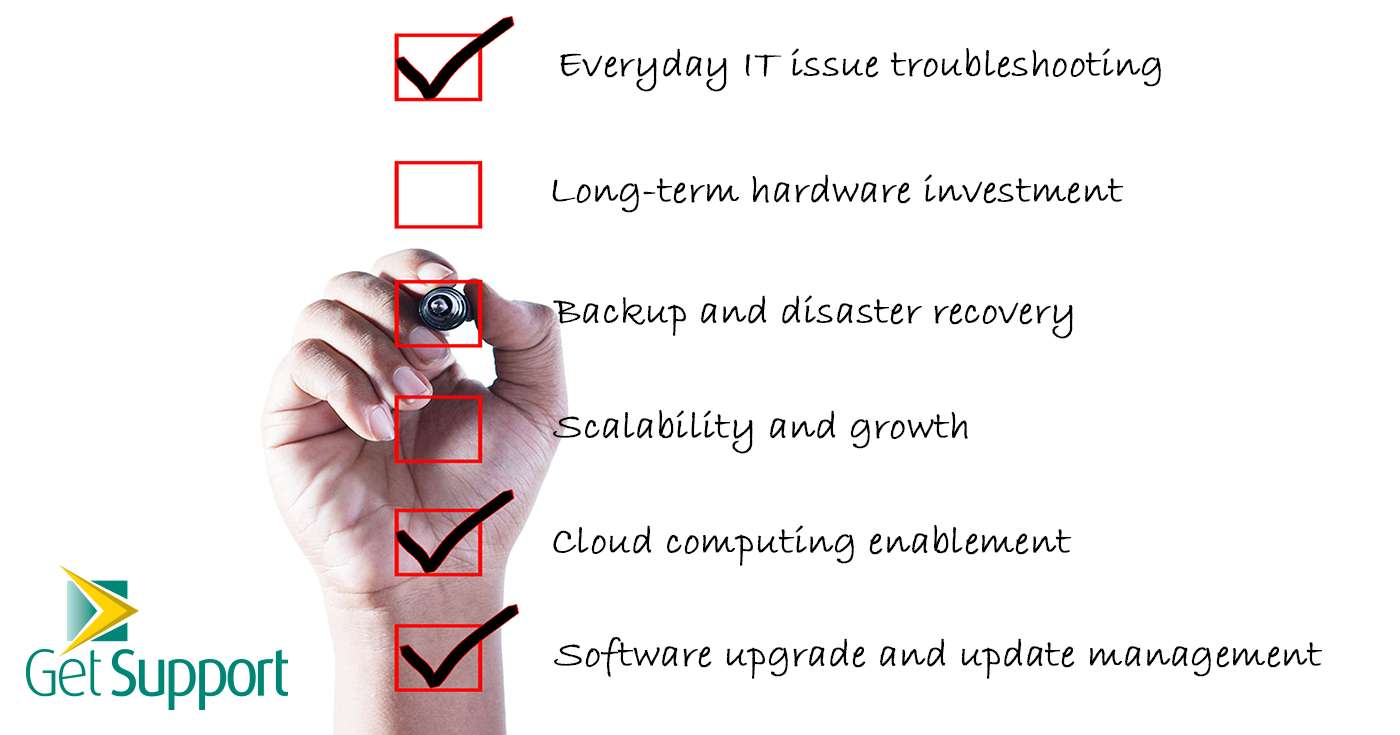 Executive Summary
Every business is different, so it only makes sense that they'd also have different needs when it comes to computing, technology, and IT support.


If you're considering outsourcing your IT support – or even hiring an in-house member of staff – but you're not sure exactly what your business needs to keep it running at its best, our checklist will help.


This IT support checklist will cover the various areas you might need support with, including hardware, software, long-term scalability, and much more.
Introduction
Did you know that more than 700,000 new businesses were registered in the UK during 2020 alone?
It's true, and it may come as something of a surprise in the wake of the global pandemic. Despite challenges across the world, it seems the spirit of enterprise is thankfully alive and well.
But, as we've covered before on the Get Support blog, these new businesses will need to adapt to new ways of working in a digital-first world. And that means they'll need quality, reliable IT support services. In fact, every business that's adapting to the post-pandemic world needs great IT support – but how do you really know which areas you should prioritise?
With that question in mind, we've compiled a checklist of IT support categories to help businesses like yours properly direct your resources as you plan the coming year.
No time to dig into the detail? Just ask about our IT support agreements and we'll do the leg work for you.
#1: Everyday IT issue troubleshooting
One of the biggest motivating factors for businesses looking into IT support solutions is quite simply those small everyday computing and technology issues we all face.
Solving it yourself can take far too long, while so-called "break fix" providers can charge an arm and a leg. It's here that a Managed Service Providers like Get Support come in very handy. Whether it's a sudden PC slowdown or a software configuration issue, you want a team who will proactively help you solve it – and fast – whether over the phone, via remote support, or even in person. In fact, we even have advanced monitoring systems in place, so we often spot IT problems before our clients do.
#2: Long-term hardware investment
In many ways, your computer hardware is the lifeblood of your business. Without fast, reliable laptops and workstations across your organisation, you probably wouldn't get much done. So, understanding when the best time to upgrade your hardware is a critical part of any IT strategy.
While modern machines will stay faster for longer, there always comes a point when a business wonders if they should repair or replace their hardware. Or perhaps you might even want to lease your hardware instead? If you think this is a question that will come up for your company, it's worth looking for an IT support partner who can help plan your hardware roadmap long-term.
#3: Backup and disaster recovery
Running a business is often about management of risk, and when it comes to IT and computing, there's plenty of that. If you're storing a lot of sensitive customer data, or you're simply a data-heavy operation, you're going to want to make sure you're covered in case the worst should happen.
With a proper business continuity plan, you can develop Recovery Point Objectives (RPO) and Recovery Time Objectives (RTO) to help mitigate any risk., you'll want to ensure you have a regular backup system in place to restore files should they be lost or destroyed. You can learn more about both of these factors in our guide here.
#4: Scalability and growth
Business growth is one of the shared goals among every business. Well, it's kind of the name of the game, isn't it?
But, in a world which relies heavily on digital solutions, you need to ensure that your IT support setup is robust enough to grow with you. For example, what happens when new starters join your business? Will they need a workstation or laptop? Will they need security policies established, or even have an MDM solution rolled out so they can work securely at home? All of these questions are a matter of scalability, and if you share these concerns, you should look for an IT support partner who can address them.
#5: Cloud computing enablement
The days of being shackled to a single computer – or even hard drive – are now a thing of the past. Instead, business files are often shared across multiple devices using cloud storage solutions such as Microsoft OneDrive.
Microsoft 365 in general, in fact, is highly reliant on cloud infrastructure, meaning you can essentially run your business without a central server on your premises. If this is a direction you'd like to go in, or a path you're already on, be sure any IT support partner you engage with can support your cloud-based aspirations.
#6: Software upgrade and update management
Finally, if one of your primary goals is to save time by investing in an IT support partner, software upgrades and updates are one area you should be thinking about.
Whether it's upgrading every workstation to the newest operating system, or rolling out essential security hotfixes for computers and servers, it can become very time-consuming to do it all yourself. And that's before you even get into the quagmire which is user and security policy management via a system like Azure.
So, if you'd like to spend less time on back-end configuration and more time doing the stuff that really drives your business forward, be sure to talk to your potential IT support partner about software update management.
Don't want to pick and choose? We'll do it for you
Whether you're focusing on short-term growth or long-term sustainability, the right IT support is a critical ingredient to your success. The categories we've shared in this checklist will certainly help direct your decision-making, but we also know there's a lot of moving parts here.
That's why we invite all small businesses to chat to our expert team about their IT support needs. While we offer comprehensive tech support agreements which cover the categories above, we're also happy to simply offer advice and guidance.
To talk more about how to define your company's IT strategy in the months and years ahead, call us today on 01865 594 000 or just fill in the quick form below.