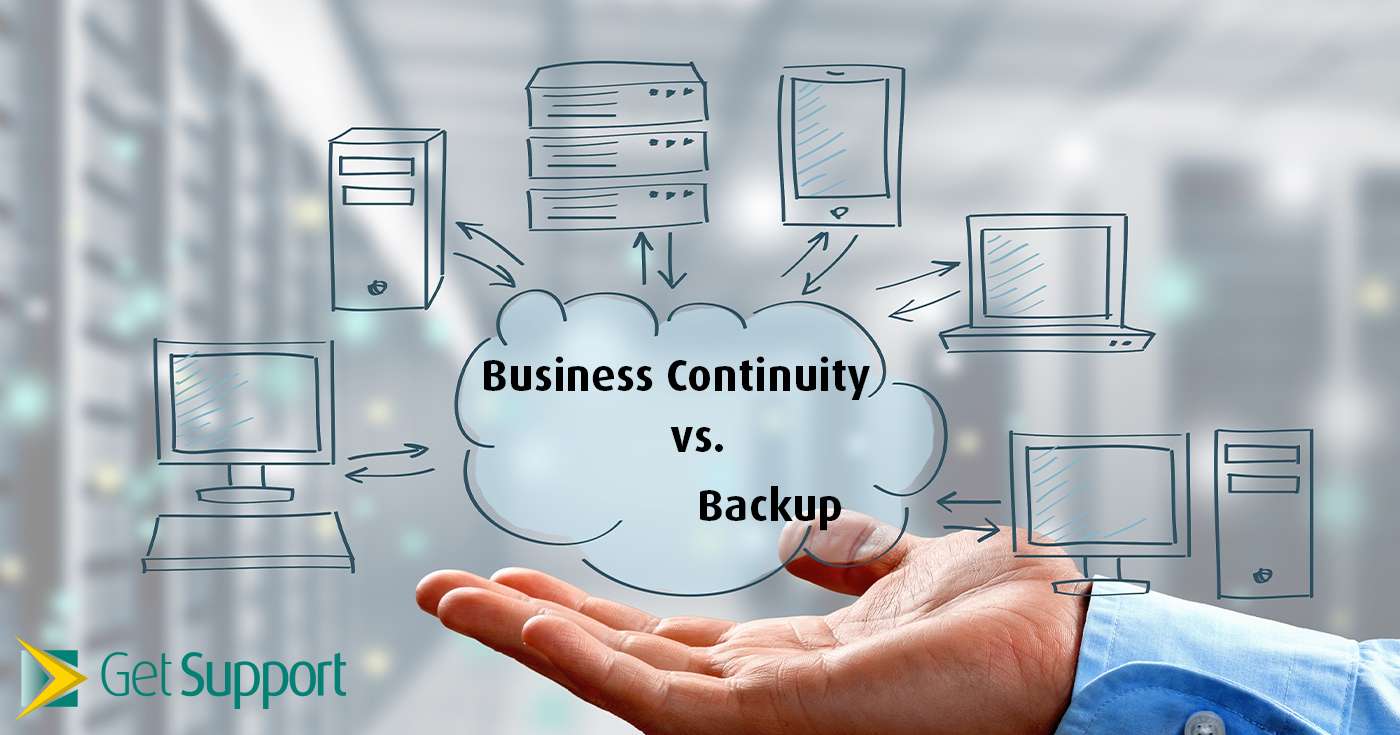 Executive Summary
In this article, we'll explore the differences between business continuity and business backup – and why both are equally important as part of your overall disaster recovery plan.
Business continuity is all about keeping your business going following a disaster. It is a process which ensures you can keep running while disaster recovery is taking place.
Business backup is instead focused on protecting your business-critical data from events such as ransomware attacks or physical destruction of storage devices.
Introduction
"Hope for the best, plan for the worst."
Such wise words are often overlooked by small businesses, but as a company that's seen many data disasters over the years, we can assure you that disaster recovery planning is absolutely vital.
As part of your contingency plans, you might come across two different concepts: business continuity and backup.
They may sound similar – and there is certainly some crossover, especially as part of a disaster recovery plan – but they're actually quite different concepts with different goals.
To help you improve your disaster recovery planning, let's put both of these terms under the microscope and explore the differences between business continuity and business backup.
What is business continuity?
As we mentioned above, business continuity is focused on one thing: keeping your business up and running following a disaster.
To make this happen, you need to make some decisions ahead of time. Specifically, you need to decide how long your business can operate without access to its core systems and data – and how much data loss you can tolerate.
For this, you need to decide on your Recovery Point Objective (RPO) and your Recovery Time Objective (RTO):
Your Recovery Point Objective represents the maximum tolerable length of time between failure and the last backup. The RPO essentially looks back in time and represents your acceptable loss period.
Your Recovery Time Objective is associated with downtime following a disastrous event and represents how much time it takes to restore minimum viable operations. So, your RTO essentially looks forward in time.
Deciding the acceptable values for your RPO and RTO is entirely your decision and will differ based on your business and its reliance on data and file-based systems.
Of course, you can always mitigate some of your business continuity risk by using cloud services like Microsoft 365, but no system is perfect, especially not when it comes to backups.
What is business backup?
If the worst does happen and disaster strikes, you're going to need to restore your files – and it's here that backup comes in.
When deciding on the RPO for your business continuity planning, time is of the essence, so it's essential to know the specific "look-back" period you want from a backup. Should it be months, weeks, days, or even hours? It all depends on your business, and the timeframe will be reflected in the cost, but it's the backup solution that makes it happen.
While it's true that backing up your data is useful in case of disaster, it has another important use too – and that's cybersecurity. Ransomware attacks are becoming more common and, once an attacker is inside your network, your data might not be recoverable.
It's here that a so-called "air gap" backup comes in handy.
As the name suggests, an air-gapped backup is one which is not physically connected to your network – such as with separate disks, tapes or a decent cloud service. This means that, even if someone gets into your network, they won't get to your most critical files.
For additional security in the case of the physical loss of data, (such as the destruction of a server), geographical redundancy becomes a valuable asset.
In plain English, that means that your data is stored safely off-site, so – if anything were to happen on your premises – your backups are still safe and can be restored as part of disaster recovery.
What's the difference between business continuity and backup?
Now that we've defined both of these concepts, it's time to look at exactly what separates them. After all, they're both concerned with protecting your business against disaster, and they both form an integral part of a disaster recovery plan.
So, what exactly is the difference between business continuity and backup?
Well, perhaps the best way to highlight the key difference is as follows:
Business continuity asks the question: How quickly can the business get back up and running after a disaster?
Backup asks the question: How can lost files be recovered after a disaster?
To further clarify, let's consider a specific scenario.
Imagine that there's a small electrical fire in an office which results in the destruction of the company's main server, along with all of the files on it.
In this case, the role of business backup is to restore these files – or at least the most recent versions possible. But how can the files be restored if the server is destroyed? It's here that business continuity steps in, because – as part of a disaster recovery plan – there should be processes in place to restore or replace the server as soon as possible.
Looking for IT support which keeps your business running at all costs?
Nobody likes thinking about potential disasters, but the truth is they do happen – and they can be devastating.
At Get Support, we're not afraid to face disaster head-on – and develop a disaster recovery plan which covers all the bases, from continuity to backup (and everything in between).
If you don't have an airtight disaster recovery plan for your business, what are you waiting for?
To start discussing your disaster recovery options, call the team today on 01865 59 4000 or fill in the simple form below.