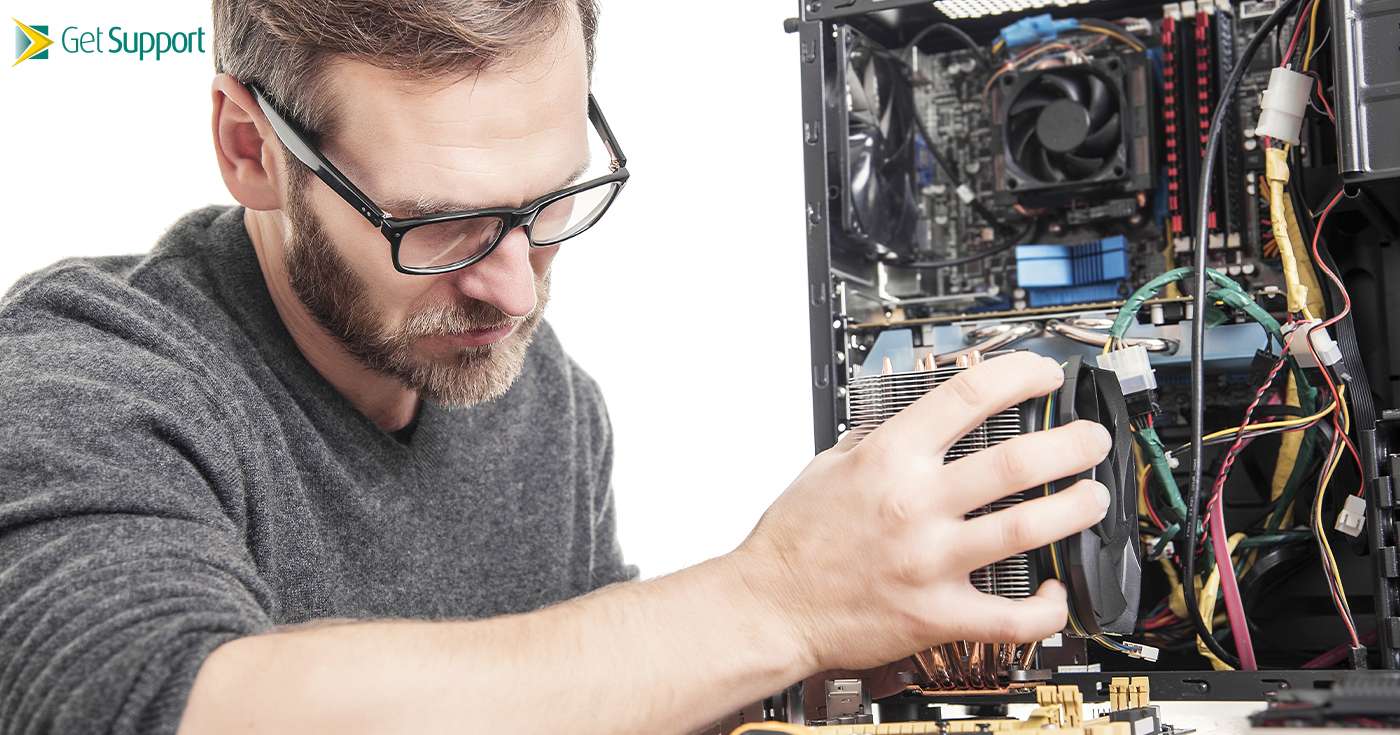 Executive Summary
Reliable IT support is an essential part of running a successful business — but in a digital-first world, do you still need an in-house team?

With work-from-home and hybrid working becoming the norm in 2022, businesses can now choose between on-site IT support and remote. But do they have to choose? Is there a way to have the best of both worlds?

In this article, we outline the benefits of each approach and how a Managed Service Provider (MSP) fits in to all of this.
Introduction
There was a time when arranging IT support for a business was pretty straightforward.
All employees would be under the same roof, usually during the same hours, and all of a company's computers would likewise be on the premises. But in 2022, things look quite different — and the same goes for the average IT support department.
UK businesses now have a choice: maintain an in-house IT support team or hire a remote Managed Service Provider (MSP).
Which is the better choice for your company? Read on and find out.
The benefits of on-site IT support teams
With the rise of hybrid and home working, the traditional model of an entirely on-site IT team is quickly becoming a bit outdated – but that's not to say it doesn't have its plus points.
Here's why UK businesses have historically chosen to have an IT department, or at least a dedicated IT support person, on premises at all times:
Your IT support person is (almost) always there. The biggest benefit to an on-site team or IT director is that they can react to any IT problem almost immediately. It's usually just a matter of someone going down the hall to the affected machine. That said, if your IT team is a single individual, illness or even a dentist's appointment can quickly render them unavailable.


A more integrated workforce. If you have a team which is entirely working from the same physical location, then it stands to reason that there will be more integration compared to remote teams. However, with all the digital team building UK businesses have done since 2020, most people are probably used to this by now.


There are some problems that can't be fixed remotely. While an outsourced IT team might be able to use Remote Desktop and other tools to fix software-based problems, it's a different ball game if the problem is failed hardware. In this case, having a team on premises can speed up resolution times — although having an MSP which is also able to travel to you on-site can solve this issue nicely.


The benefits of remote IT support teams
Outsourcing might be the (relatively) new kid on the block in terms of IT support, but if the last couple of years has taught us anything, it's that digital solutions can do amazing things.
That phenomenon extends to a surprisingly wide variety of troubleshooting and problem resolution which can be done by remote IT support teams.
Here's why you might want to consider a remote IT team in your business:
Scalability is built into the model. Depending on the remote IT support team you choose, scalability is often one of the core tenets of the service. In plain English, that means that as your business grows, your remote IT contract will grow too. In this way, you can manage your budget in line with your company's growth.


Digital tools are better than ever. With many companies now working almost entirely on tools like Microsoft Teams, it's clear that digital technology is now being built to support remote setups. For IT uses, this means things like patch management and server monitoring can be done without ever setting foot in an office.


Proactive monitoring and support. Because remote IT support companies are generally setup to support multiple businesses at once, they usually have robust monitoring systems in place. This means that you can be alerted to issues instantaneously, rather than waiting until 9am when your IT team starts their day.


Access to a broader pool of experience. MSPs like Get Support are made up of IT experts with a combined experience of countless hours. No matter who your IT director is, it's tough for a single individual compete with this type of resource.


Sickness or absence isn't an issue. Unlike in-house teams or individuals, MSPs multi-person teams mean you don't need to worry about what you'll do if they're sick or need time off.
Managed Service Providers: The best of both worlds?
There's no question that there are benefits on both sides of this particular debate, so what if you want it all?
Well, it's here that a Managed Service Provider (MSP) can be an invaluable service. Just as we cover in our Plain English Guide on this topic, an MSP is essentially a fully outsourced IT support department. However, unlike purely remote options, which can often be located on the other side of the world, MSPs generally operate within a specific geography.
Take our service here at Get Support as an example: we provide countless UK businesses with remote IT support services every day, but we also deliver in-person support when it's required (and safe) to do so. For example, if a client needs new hardware installing on their premises, we'll arrange a lightning-fast visit to get it done ASAP. In addition, we also offer support to companies which have locations around the globe: the USA, Germany, Australia, and more.
In this way, an MSP is able to deliver the best of both worlds for businesses who don't want to forfeit all of the benefits of in-person IT support.
Ask about our IT support agreements today
As one of the UK's longest-standing Managed Service Providers, we've left no stone unturned in the IT support world. From small start-ups to nationwide businesses, our team of IT experts can offer remote troubleshooting, monitoring, patch management and much more. Prefer in-person support? We can help there too.
It's all available as part of our IT support agreements, which include expert advice in plain English, no long-term contracts as standard, server monitoring at no extra cost, and so much more – so be sure to explore the options we can offer UK businesses.
To get in touch and learn more about our IT support agreements — including how they could specifically you're your company — call us today on 01865 594 000 or fill in the form below.