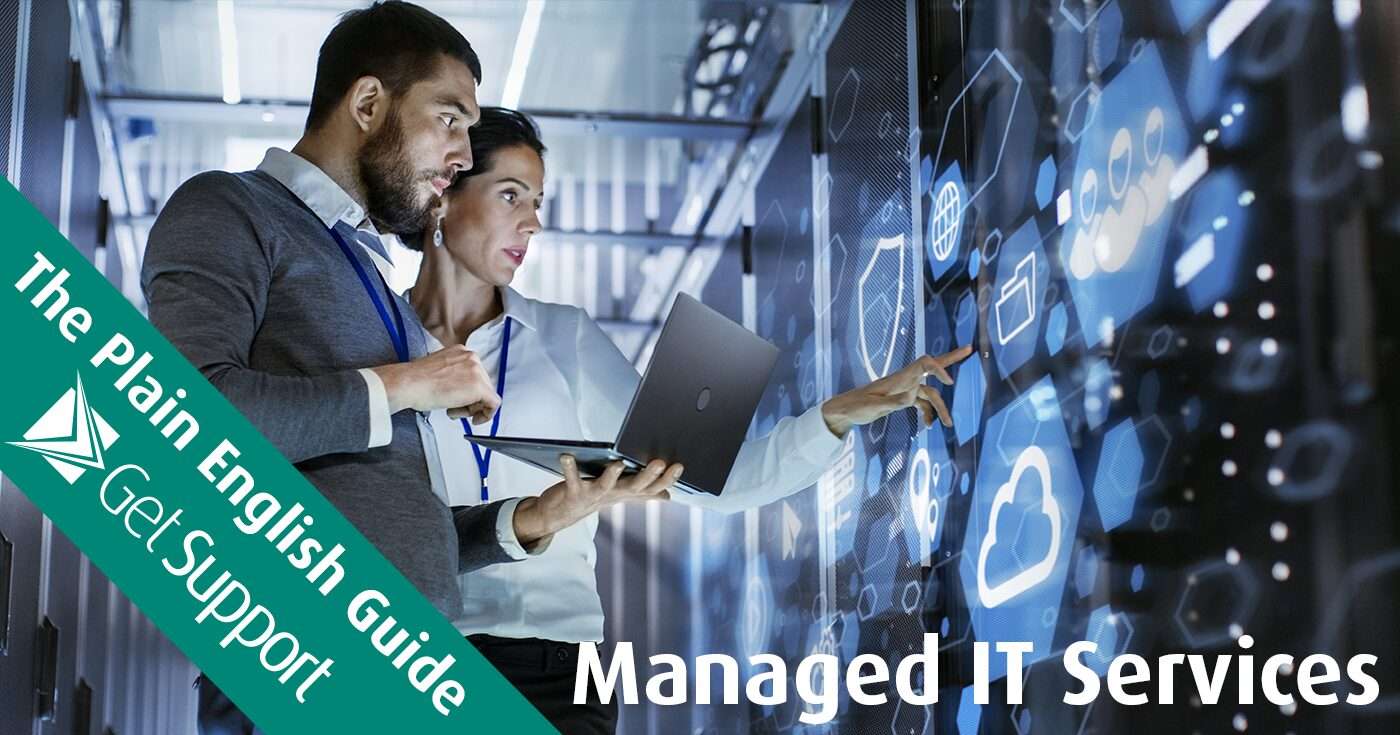 Executive Summary
Managed IT services refers to the process of outsourcing your IT infrastructure and management to a third-party company.
Managed IT services can include hardware and software installation, maintenance and troubleshooting, hardware monitoring, and more.
Managed IT service businesses are sometimes referred to as Managed Service Providers, or MSPs. Here we compare MSPs with "break-fix" IT support providers.
Introduction
If the rise of the digital age has taught us anything, it's that businesses don't all need to run the same way.
In fact, the internet has proven that doing things differently — especially remotely — can be a much more cost-effective approach.
It's here that managed IT services step into the picture. Like many other areas of business management, it's now possible to have all of your IT run by a third-party entirely offsite — without comprising performance, reliability, or cost.
Let's dive a little deeper.
What are managed IT services?
It might seem obvious to some exactly what managed IT services are, but for the uninitiated, let's begin with a quick definition.
At the basic level, managed IT services are delivered by a Managed Service Provider (MSP), like the team here at Get Support. By signing up with an MSP, you'll effectively be outsourcing a lot of the hard work required to set up, manage, and support your company's IT infrastructure.
Exactly what's included with managed IT services will differ from provider to provider, but broadly speaking you can expect:
Support for technical problems via phone, the web, and even in person
Remote monitoring of your servers and workstations
Patch management and updates
Advice and installation of hardware and software
(If all of that sounds too good to wait, you can always request a free IT support quote right now.)
Managed IT services vs. the break-fix model
Now that you have a good sense of how a Managed Service Provider could help boost your business IT support, let's consider the alternative.
The "break-fix model", as it's known, is essentially the pay-as-you-go alternative to having a support agreement with an MSP.
So, what's the difference?
As the name suggests, a break-fix provider is there to deal with problems only when they occur. They don't provide the ongoing support of an MSP, and they don't usually offer any additional services other than solving the issue at hand. They charge per job, often by the hour, as opposed to the subscription model of an MSP.
4 reasons to choose a Managed Services Provider for your IT support
It's easy to see why the break-fix model might be tempting, but there are plenty of reasons why an MSP is the better choice. In fact, here are 4 of them.
#1: It's more cost-effective than hiring a dedicated IT resource
Managed IT services, like those we offer here at Get Support, come at a cost which is a fraction of what you'd pay for a dedicated in-house IT resource. Whether that's a single IT director or a whole team, costs can really add up going this route.
But with an MSP, for a single low price, you'll get all the benefits of having a dedicated IT person in your office — but you'll save much more. It's a win-win.
#2: An all-inclusive managed IT services plan means issue size isn't an issue
IT support is unpredictable by nature.
One day you might simply need a new user added – the next it could be a complete server meltdown. With an MSP, you don't need to be concerned about the size of the potential issues you'll face, because most technical issues are covered by your agreement. Just give your MSP a call and they'll get to work. Or, even better, they'll already be monitoring the situation and will proactively advise you of any issues.
A break-fix provider, on the other hand, will charge you according to the size of the problem. The bigger the issue, the bigger the price tag. It doesn't take a mathematician to understand how working this way with a break-fix provider could get very pricey, very fast.
In fact, you could argue that it's in the interest of a break-fix provider for things to go wrong with your IT systems.
But we couldn't possibly comment.
#3: It's in the interest of an MSP to keep your business running at its best
As we so casually alluded to in the earlier point, a break-fix provider will benefit if you have a significant issue with your IT systems – but the reverse is true for an MSP.
What do we mean? Well, the benefit of having anytime IT support is that you don't need to worry about how much a fix might cost – you just call, and the MSP gets to work. That means that, unlike break-fix providers, it's in the interest of your MSP to keep your systems running as well as they possibly can.
In this way, you can always be sure that a managed IT services provider will deliver solutions which are the right for your business – and not just for their own bottom line.
#4: An MSP will scale with your business, meaning they're invested in your growth
As we've discussed, a Managed Service Provider essentially becomes your IT partner.
This means they'll help fix IT problems, sure, but it goes a bit further than that. The IT support agreements we offer here at Get Support are actually based around the number of active users in your business.
What does that mean in real terms?
Well, unlike break-fix providers – who are incentivised to have your IT systems break down more often – our team is incentivised to help your business grow. The more users you have on your IT systems, the more value we all get out of the agreement. That means that our team will always want to help your business make the most of technology to grow and scale your business in new ways.
The best example of this is perhaps our unique IT Director service, which comes complete with all of our IT support agreements.
Want to learn more about managed IT services? We're here to help
If you like the sound of taking the hard work out of managing your IT infrastructure, and saving money on staff costs at the same time, we can help.
As a Managed Services Provider, the Get Support team has all the expertise and IT support knowledge you need to keep your business running like clockwork, whether your in-office, remote, or a bit of both.
To talk more about exactly how we could help you, call our team today on 01865 59 4000.