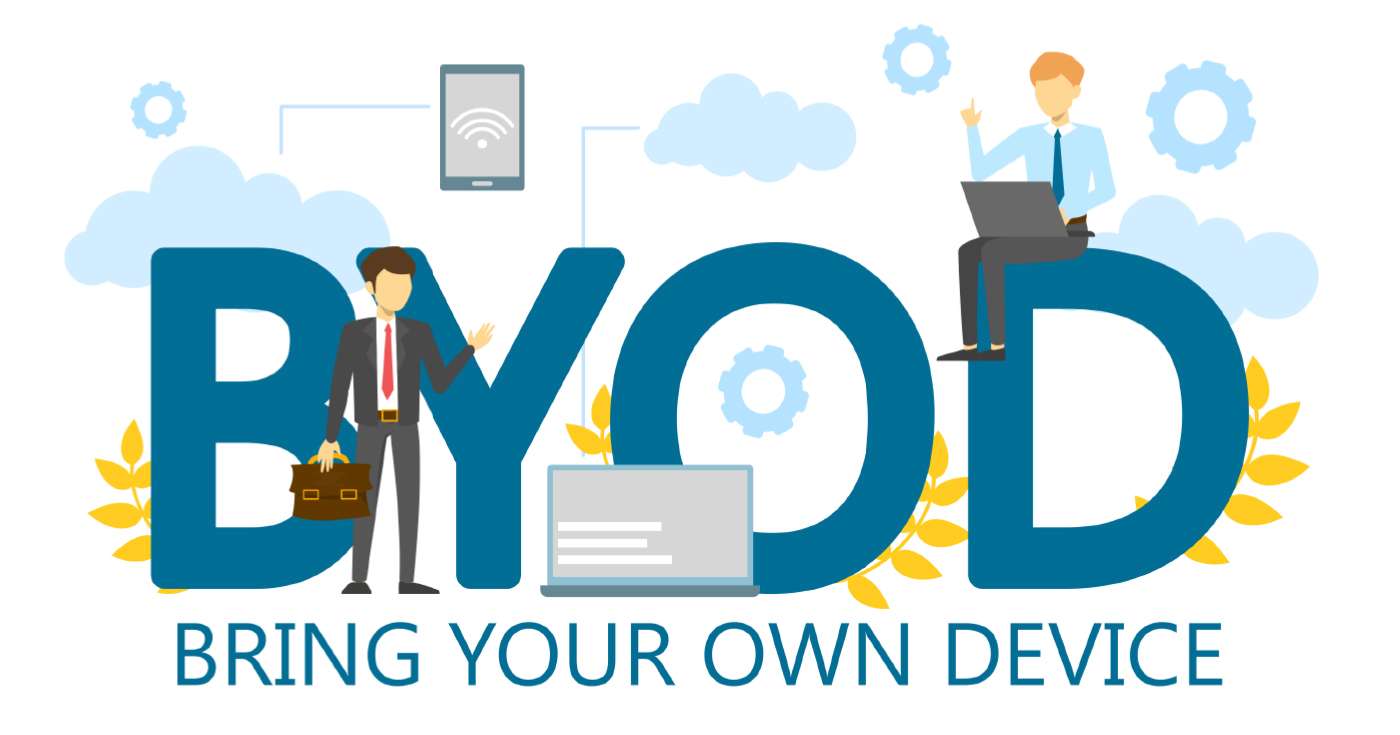 Executive Summary
With the way we work forever changed, remote working is more common than ever, meaning many employees might prefer to use their own desktops, laptops, smartphones, or tablets to do their work.
As an employer, you naturally want to get the best work out of your team, but how risky is allowing personal devices? Could you be opening the door to cyberattackers? Or compromising your IT support practices?
Bring Your Own Device, or BYOD, is a set of policies companies can put in place to formalise the use of personal devices – and remove the big IT support and cybersecurity concerns, too.
Introduction
The world of work has changed.
In the wake of the global pandemic, businesses have evolved in entirely unexpected ways.
Where once many employees were at their desks 40+ hours per week, many are now either still working from home or have switched to the hybrid model. Whatever the case, the way companies approach their technology and IT support needs has necessarily had to change too.
It's here that Bring Your Own Device, or BYOD, enters the picture. But is it right for your business? And do the risks outweigh the rewards?
Let's take a closer look.
What is Bring Your Own Device (BYOD)?
Company-issued devices, such as laptops and mobile phones, can be valuable tools for employees – but they're not always practical.
Bring Your Own Device, or BYOD, is a device management policy some organisations adopt which allows employees to use their personal devices rather than company-issued ones.
There are a few reasons why companies might choose to deploy a BYOD policy, including simplified device management for individuals (i.e. not having to carry around two laptops), and the lower overheads for the business when it comes to hardware provisioning and incremental upgrades.
What are the benefits (and risks) of deploying a BYOD policy?
There's no question about it: BYOD isn't for every business. If you're wondering whether it's right for yours or not, let's take a closer look at some of the reasons you might (or might not) choose to deploy such a policy.
The benefits of BYOD include:
Simplified device management for employees
Greater flexibility in terms of device type for employees
Reduced overheads for IT hardware provisioning
Easier onboarding of new starters
Increased productivity of workforce
In terms of the risks of a BYOD policy, here's what you're looking at:
Higher likelihood of successful cybersecurity issues arising from inferior malware protection or user error
A higher chance of data loss or compromise due to theft, damage, or human error
Decentralised IT support makes on-site troubleshooting and repair difficult. (Though a robust IT support agreement with remote technicians can really help).
Potential security issues arising from out-of-date software or older operating systems.
Challenges with compliance (e.g. handling of sensitive client data).
Of course, with these risks outlined, it's also worth noting that many of the very same risks apply to company-issued devices. In fact, it's often human error that results in the compromise of sensitive data.
Even so, there are measures you can put in place to improve the security of a BYOD policy.
BYOD, cybersecurity, and IT support – the technicalities of making it work
At this point, you're probably weighing up the risks of deploying BYOD against the benefits it brings. But before you make a decision one way or the other, it's best to consider how the deployment of BYOD looks in practical terms.
Why? Because, depending on how you set up your BYOD policy, you can fine-tune the risk in regard to cybersecurity, additional IT support burden, and more.
Here are the most important things you should know:


Enforce multi-factor authentication where possible. When employees are logging in from their own device, it's a good idea to use multi-factor authentication to ensure a level of cybersecurity. For additional safety, you can set the MFA to be required every single time a user logs in to key apps (like Microsoft Teams or Exchange).


Set up policies for basic cybersecurity. To prevent widespread risk in the case that personal devices are compromised, you should enforce policies for password length and complexity, as well as the basics of Cyber Essentials as a starting point.


For the best security, use an MDM solution. We've talked before about Mobile Device Management (MDM), and specifically Microsoft Intune, and it very much applies here. MDM ensures that employees using their personal devices can access even sensitive company data in a compliant way. In addition, you can adjust MDM policies such that a device must meet certain standards (e.g. operating system versions) or to restrict specific actions (e.g. copying data from a secure location to an insecure one).


Deploy a reliable technical infrastructure. Everything your employees do relies on the cloud infrastructure your business is using. That's why we recommend the use of Microsoft 365, including Azure AD for user management, Exchange for emails, Office and Teams for day-to-day work, and more. All of these services and apps are built on Microsoft's world-class technical infrastructure, meaning cybersecurity is as good as it gets.
Make the move to BYOD easy with advice from the IT support experts
At Get Support, we aren't just specialists in troubleshooting and solving business IT support issues – we can also help get your company's IT set up right. As a direct cloud Microsoft provider, our team are experts at deployment, configuring, and managing a Microsoft 365 setup for any business, setting the stage for a secure BYOD policy.
So, whether you want to get started with 365 today, improved your cybersecurity measures with advice from our expert team, or simply ask a question about how best to deploy BYOD policies in your company, we're here to help.
To learn more about how BYOD might be rewarding for your business, call us today 01865 59 4000 – or fill in the form below.
---