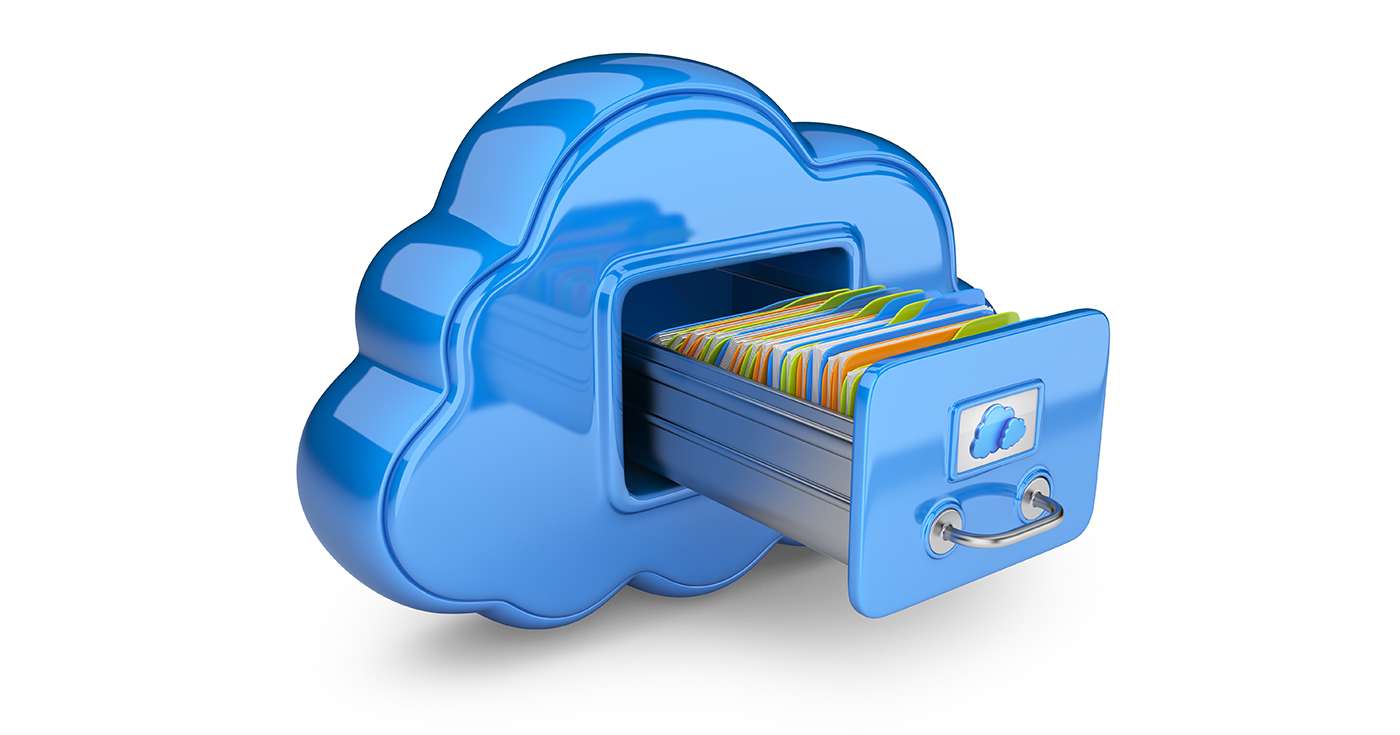 Executive Summary
Cloud storage is one of the most convenient ways to keep your files accessible to your team – no matter where they are in the world.
Nothing is more important to a business than its first-party data. To keep your company cybersecure, it's essential your data is safe – so how does cloud storage fit in?
In this Get Support buyer's guide, tailored for business users, we'll explain everything you need to know about investing in a new cloud storage platform for your company.
Introduction
Depending on how many candles are on your birthday cake, you might remember the time of the 'zip drive'.
In short, a zip drive was a dedicated on-premises backup which required a person to physically back up business data on to a disk every day.
While short-lived, zip drives are a great example of how tedious it used to be to manage and backup your business data.
Mercifully, in 2021, data storage is a whole different ballgame. While on-premises storage still exists, modern companies are now choosing a much more flexible option: cloud storage.
Storing your files in the cloud means your data is available to your employees anytime, anywhere – whether they're working from home or the office. But there are also cybersecurity concerns which need to be addressed.
So, let's tackle this topic head-on, with a complete buyer's guide to cloud storage options for businesses.
Part I: Types of cloud storage
If you're looking at cloud storage solutions, we're sure you already know what cloud storage is, but for the sake of clarity, let's start with a definition.
"Cloud storage" refers to the practice of storing files on a remote server connected via the internet, rather than on a local drive. These cloud servers are owned and operated by a third party, like Microsoft or Amazon, who generally charge for the service based on how much space is used.
Files stored in the cloud can be accessed either via dedicated apps (so-called "Software-as-a-Service", or SaaS, platforms) or the file explorer in your operating system (as in OneDrive).
While the fundamentals of cloud storage are the same across the board, there are different variations on this theme. Here are the three core types of cloud storage businesses can choose from:
A Public Cloud is, as the name suggests, a type of server storage which is shared by multiple other businesses and individuals. Because the resources required to run the servers are shared across multiple users, the price for public cloud is often lower. Examples of this type of cloud storage include Amazon Web Services (AWS) and Microsoft Azure.
A Private Cloud is a dedicated server storage solution which is reserved exclusively for the use of one particular customer. Think of it like your own private remote storage device. This delivers the ultimate in performance and security, but usually costs more for the exclusivity factor.
A Hybrid Cloud, as you might have guessed, is a combination of the two other options. With a hybrid approach, you're able to store non-sensitive data in a public cloud, while reserving your very sensitive customer data in a private cloud. This is a more flexible option for businesses who want enterprise-class privacy without the price tag.
Part II: How secure is your data in cloud storage?
One of the biggest – and most understandable – concerns about the use of cloud storage is how secure your company's data will be.
After all, cloud storage is a bit like parking your car in someone else's garage, isn't it?
Even though your data is technically being hosted by a third-party, there are plenty of security options in place to ensure it's secure at all times.
Let's take Microsoft as an example.
With its OneDrive for Business and SharePoint Online solutions, your data is encrypted in two ways:
When you add files to, or open files from, your cloud drive, Microsoft uses in-transit encryption using secure SSL connections using 2048-bit keys.
When your files are sitting on cloud storage, they are encrypted at rest using BitLocker encryption and per-file encryption. Microsoft's datacentres even store the keys required to unlock your files in a physically separate location just in case.
The short version here is that, yes, your data is very secure when stored in cloud storage. However, it's always good practice to implement additional protections, including the use of multi-factor authentication for all of your accounts.
We'd also recommend that you implement some data backup best practices outside of the cloud storage service as a safety net. Check out our dedicated guide for more info on that.
Part III: The practicalities of the cloud
At this point, you might be thinking that cloud storage sounds like a slam-dunk win for your business – and it could well be.
However, there are some practical considerations you'll want to bear in mind before going all-in on cloud storage. Here are some questions you may want to ask before signing on the dotted line with a cloud storage provider.
Do you often work with large file sizes? The performance of your cloud-based storage is effectively proportional to the speed of your internet connection. If you work with large files – such as Photoshop PSDs, for example – the time it takes to upload or download files might actually mean the cloud isn't ideal for you just yet.
Do you have any customer relationships which rely on GDPR or other data protection policies? Don't forget that you're still handling other company's data – and you have a responsibility to do that in compliant fashion. For this reason, you should always review your client agreements to ensure there are no data policies (like GDPR) preventing you from hosting client data off-site.
How much work do you do remotely or offsite? While lots of us now work from home or away from the office, some businesses are still firmly rooted to one spot. If this is the case, you might not actually need cloud storage yet. If you work with highly sensitive client data, this is even more reason to hold off your migration.
Would you benefit from co-authoring and collaboration? Cloud-based platforms like Microsoft 365 and Microsoft Teams leverage remote storage and cloud connections to enable remote collaboration from anywhere. If your team is distributed, these features are a compelling reason to make a change.
Will you be at risk of hitting any fair-use policy restrictions? Some cloud storage providers include fair-use policies which will actively limit how much data you can store on remote servers – or even limits on specific file sizes. For example, OneDrive for Business offers 1TB per user by default, but this can be increased to an unlimited amount on certain Microsoft 365 subscriptions. It also allows users to upload single files up to 100GB in size.
Part IV: The cloud migration checklist
Okay, so you're sold on cloud storage and you're ready to get started. But what happens now?
Below is a quick checklist of things you'll need to have covered as you plan your migration from local storage to the cloud.
Step 1: Ensure all key stakeholders in the business are involved
You'll be well aware that businesses have plenty of moving parts, so making a change like switching to the cloud can be a big change. Before you even start looking for a new platform, it's essential to loop in all key stakeholders (department heads, etc.) to make sure everyone's on board.
Step 2: Assess which areas of the business will be impacted by the migration
Some areas of your business might lean more heavily on cloud storage than others – and that includes anyone who'll be operating on cloud apps like Microsoft Teams. Migrating to a cloud-based system means designing a strategy based on current operations, needs, and requirements going forward.
Step 3: Consider your options and pick your platform
One of your biggest steps before moving to the cloud is actually picking the app or service you'll be using. There are plenty available, including OneDrive, Dropbox, Google Drive, and more – so make sure you do your homework. It's here you'll also want to consider security options, including the use of multi-factor authentication.
Step 4: Pick your migration date, then get ready to go-live
Once everything is lined up for your migration, you should set a firm date to make the switch. This can be run either by yourself or via your IT support team; but no matter what, you'll need to arrange some internal training on the new tools to ensure everyone hits the ground running once you've migrated to the new systems.
Need help launching your business into the cloud? We can help
It's clear that moving your business to cloud-based storage isn't straightforward. So, with in-depth knowledge of IT hardware and software cloud solutions like Microsoft 365, our expert team is ideally placed to help you choose the right cloud storage platforms and get them deployed.
Whether it's through one of our comprehensive IT support agreements or in consultation with one of our experts, we can help you find the right solution, get it configured, deployed and working.
Looking for more expert advice? If you haven't yet, be sure to check out our other Get Support Business Buyer's Guides:
To learn more about hardware, software, or anything else, call our team today on 01865 59 4000 or just fill in the form below.