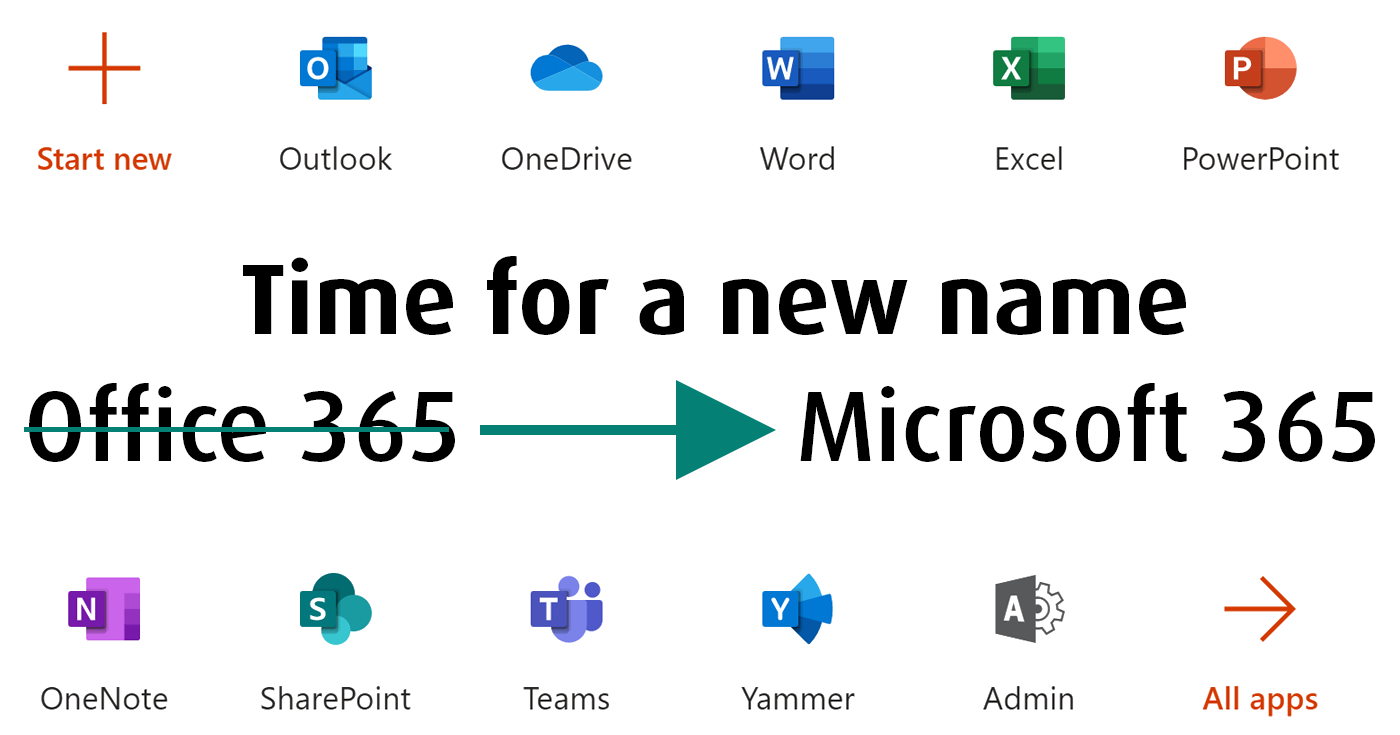 Microsoft is no stranger to making big changes to its software line-up.
Whether that's the ill-fated move to the "Metro" design style in Windows 8 or the widely acclaimed move back to the classic design language in Windows 10, the Redmond-based tech giant has never been afraid to shake things up.
It's this ethos which informed the company's latest big change: a rebranding of its Office 365 productivity suite. The switch to a software-as-a-service (SaaS) model back in 2017 wasn't welcomed by everyone, but over time, Office 365 has become a mainstay for business and personal users across the world.
So, what's changed? Well, as of April 21st 2020, the name Office 365 has gone the way of the dodo, and the entire suite of apps and services now falls under the Microsoft 365 banner.
We know that these changes and name changes can be a bit confusing, so if you don't know your Business Basics from your Office 365 ProPlus, (and we don't blame you), the Get Support team is here to help.
Goodbye, Office 365. Hello, Microsoft 365.
Before we dive into the detail of the available Microsoft 365 plans for businesses, let's first summarise the April 2020 changes.
Here are the headlines:
Office 365 Business Essentials is now Microsoft 365 Business Basic.
Office 365 Business Premium is now Microsoft 365 Business Standard.
Microsoft 365 Business is now Microsoft 365 Business Premium.
Office 365 Business and Office 365 ProPlus are both now Microsoft 365 Apps.
Microsoft have been very clear that this is merely a rebranding, with none of the included apps or other features changing at all. Makes sense, right? But you still might – very understandably – ask the question why? The Microsoft team actually addressed this directly in the announcement on their blog, so let's hear it from the folks who know it best:
"Our cloud productivity offering has grown well beyond what people traditionally think of as "Office." […] we're breathing new life into these apps with the help of the cloud and AI, and we're adding new, born-in-the-cloud experiences like Teams, Stream, Forms, and Planner. […] It's Office and a whole lot more."
A quick note about what's not changing
While the last thing we want to do is introduce any further complexity here – there is a tiny exception to the new branding rollout.
For reasons known only to the upper echelons of the Microsoft team, there are a few software packages which are retaining the Office 365 branding. The following plans have seen no changes whatsoever:
Office 365 for Enterprise
Office 365 for Firstline Workers
Office 365 for Education
Office 365 for Government
A guided tour of Microsoft 365's choice of plans
Now that you're familiar with the overall strategy powering the new Microsoft 365 suite, let's dig into the options. Just like Office 365 before it, the new software suite offers plans for both personal and business users – but in this guide we'll focus only on the latter.
If you're confused about exactly which of the Microsoft 365 plans is right for your business, you're not alone. But don't worry – we've broken down each option into only its most essential selling points, and we'll outline each of them below.
Microsoft 365 Business Basic
With a license charged at £3.80 ex VAT per month for each user, with annual commitment, the Microsoft 365 Business Basic plan is designed for businesses who simply need cloud-based apps and some basic services with no bells and whistles.
Microsoft Business Basic includes:
Web and mobile versions of Outlook, Word, Excel, PowerPoint, and OneNote. These are cloud-based, so you won't be able to install any Office apps on your local machines (unless you already own standalone versions, which can be used with your subscription).
Email with a 50GB mailbox for use cross-device via Microsoft Exchange.
1TB of cloud storage included on Microsoft OneDrive. Access your files anywhere and sync files on different devices using this cloud-based storage option.
Chat, call, and collaborate with Microsoft Teams. Host meetings of up to 250 attendees, work on files together, and much more. Read our dedicated guide to Microsoft Teams.
Share, manage, and organize your internal knowledge with Microsoft SharePoint. Build a dedicated intranet to give your people a central hub to communicate and share ideas – and make it accessible from any device
Built-in security and privacy protection. This includes password policies, 1000+ different privacy controls, spam protection via Exchange Online Protection, and more.
Support and deployment. Web or phone help is available, each user is licensed for commercial use, and you can add up to 300 users to this plan.
Microsoft 365 Business Standard
If you're looking for a more comprehensive package of productivity and business support software, you might consider the Microsoft 365 Business Standard plan.
Charged at £9.40 ex VAT per month per user, with annual commitment, this is the option which most small businesses will choose.
In addition to everything listed above as part of the Basic plan, you'll also get:
Desktop versions of the Microsoft Office apps. Each user gains access to installable versions of Outlook, Word, Excel, PowerPoint, and OneNote which will be kept up-to-date with free updates. Every user is also free to install these apps on up to 5 Windows or Mac machines.
Unlock the ability to plan and schedule internal tasks with Microsoft Teams. Set and assign tasks for your team members in just a few clicks within Microsoft Teams.
Use Microsoft Bookings to schedule and manage client appointments. A dedicated app for appointment scheduling, Bookings is available on desktop or mobile.
Track and report on your team's mileage with MileIQ. If your staff drive to visit clients or attend meetings, this software can track their mileage in real-time.
Microsoft 365 Business Premium
The top-tier package for Microsoft 365 – Microsoft 365 Business Premium – is an everything-but-the-kitchen-sink solution with a focus on security and cross-device usage. If your business works with sensitive data but wants to retain the flexibility of working remotely via mobile devices, this package might be the one for you.
Charged at £15.10 ex VAT per month per user, with annual commitment, this plan gives you everything listed above in the Basic and Standard packages, plus:
Increased security via Office 365 Advanced Threat Protection. This protects you against ransomware, zero-day threats, advanced malware, and more.
Remotely wipe data from devices using Selective Wipe from Intune. Staff working remotely on their own devices? With this feature, peace of mind comes as standard.
Apply organisation-wide Do Not Copy and Do Not Forward policies. Take full control of your email communication with these advanced tools.
Set up security policies across devices from one simple setup wizard. Configure security options for remote Android, iOS, or Windows devices from one central location.
Automatic deployment of Microsoft Office apps (and updates) to local Windows 10 PCs.
Simplified controls to apply security policies across local Windows 10 PCs.
Create and deploy security policies across devices. With Mobile Device Management from Intune, you can protect critical business data on iOS, Android, and Windows PCs.
Microsoft 365 Apps
So, the three main plans seem quite straightforward, right? That's true, but it wouldn't be Microsoft if there weren't just one more small wrinkle to consider.
If you are an existing subscriber to either Office 365 Business or Office 365 ProPlus, you probably want to know what's changing for you, too. But don't worry – the only thing you'll need to remember is the new name: Microsoft 365 Apps. In terms of functionality, absolutely nothing else will change and you'll continue to have access to the same suite of applications you always have.
But – and we promise this is the last point of note – there may be occasions where the new name has either "for Business" (Office 365 Business) or "for Enterprise" (Office 365 ProPlus) bolted onto the end of it. Even more confusingly, the new package for ProPlus – Microsoft 365 Apps for Enterprise – is included as part of some of the plans whose names aren't changing, like the Office 365 for Enterprise bundles Office 365 E1 and Office 365 E3.
Here at Get Support, we pride ourselves on delivering technical details in plain English, but this one's a challenge – even for us.
If you'd like to know more about Office 365 ProPlus and the various flavours it offers, you can read more on the Microsoft website.
Is your business ready to make the jump?
We very much hope this guide has brought at least a bit of clarity to the Microsoft 365 productivity suite for small businesses. Still feeling a bit confused about precisely how Microsoft 365 could boost your business? Or not sure exactly which plan will be the most cost-effective for your company?
Don't worry, because right now we're offering a free 30-minute IT consultation which you can use to talk about anything you like – including all things Microsoft 365. And, because it's Get Support, all of our advice will be delivered in plain English.
Call Get Support today on 01865 59 4000 to set up your free call with one of our experts.