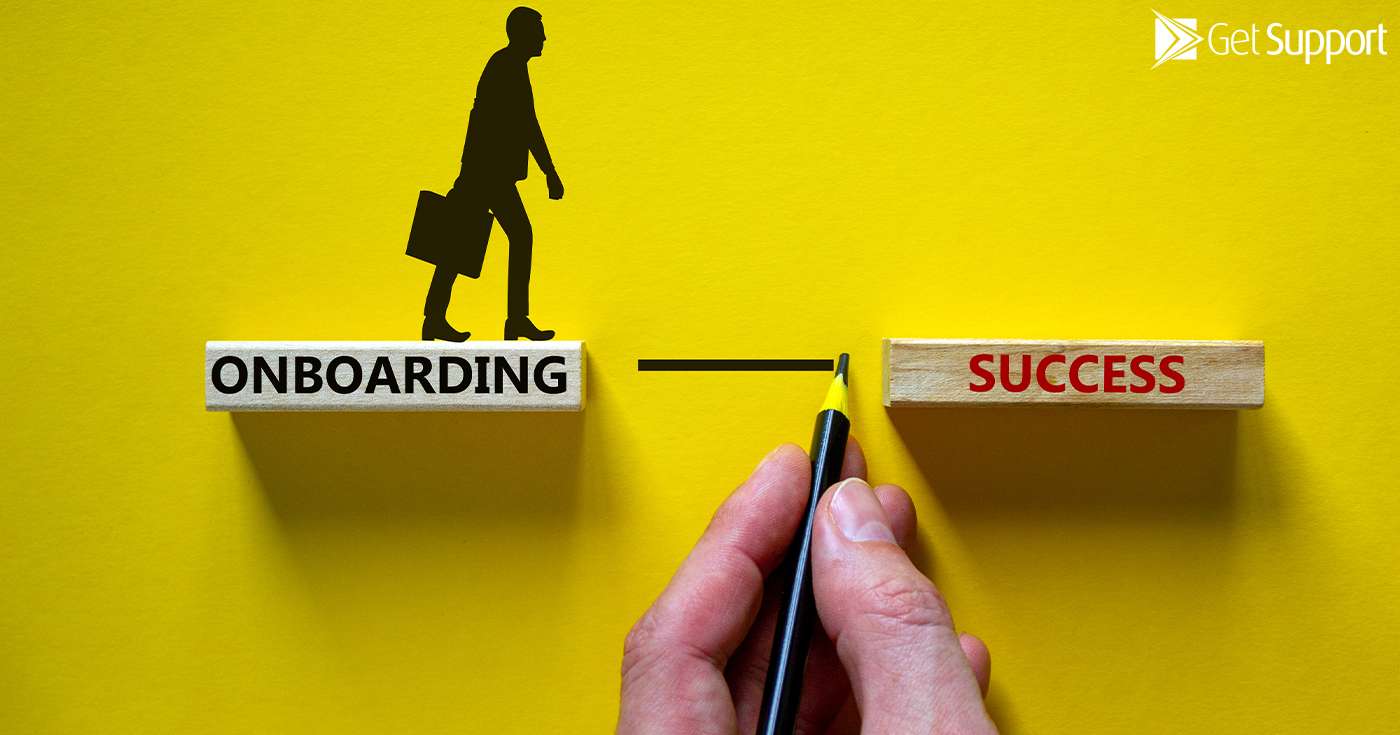 Executive Summary
From setting up key accounts to provisioning hardware, IT support teams and individuals have a lot to do when someone new starts at your business.


Rather than playing it by ear, it's always best to have an established IT onboarding process to rely on. Documenting this process ensures new starter onboarding is watertight.


In this checklist, we'll help you choose each step of your IT onboarding strategy to help you (or your IT support team) streamline the new starter experience in your business.


Introduction
New starters are an essential – and exciting – part of a growing business.
But getting new employees set up from scratch can often be a bit of a pain, especially for an IT support team (or individual) who already has enough on their plate.
To ease the stress of getting new starters set up with hardware, software, and training for your company's particular IT systems, it's a good idea to have an IT onboarding process in place.
Documenting your IT onboarding process will ensure that, even if your IT support resources aren't around, you can still follow each step to ensure a successful welcome.
Not sure where to begin? We've got you covered.
Just consider each of the steps below and keep the ones which will work best for your business.
Step #1: Ordering and provisioning the right hardware
Before your new starter even begins their first day, it's essential to have the right hardware in place. Exact specifications will differ from business to business, but this will usually include at least a desktop workstation or laptop. Likewise, the way you provision your IT hardware is another matter of choice. You should also think about the need for monitor, keyboard, mouse, and other accessories.
One important tip here is to ensure that your new employee's dedicated hardware is available and configured on their first day. Failing to do this will lead to a loss in productivity, a longer onboarding phase, and some twiddling thumbs!
Step #2: Configuring essential software and accounts
The bulk of setup for an IT support team when it comes to onboarding is on the software side. Setting up a new user will vary drastically from one company to another depending on the systems they use, but we often see either Google Workspace or Microsoft 365 accounts as a foundation.
As a direct Microsoft Cloud Solution Provider, we recommend the Microsoft 365 suite, which allows you to add new users from the Admin Centre in a few clicks. Even better, once you've done this, your new starters will instantly have access to Microsoft Teams, SharePoint, Exchange, Office, Outlook, OneDrive, and many more apps and services. This will save a lot of time configuring access to essential business tools like email, collaboration platforms, file sharing, cloud storage, and more.
Step #3: Orientation for your IT support policies
The next step is absolutely critical to keep your new employees feeling supported in their first few weeks in the role. Because every company does things a little differently, having a clear explanation of your IT support policies is vital. This can take the form of an in-person or virtual session, or a PDF or physical handout with all the details. The important part is that your new starter knows what to do, when to do it, and what the limits are.
For example, your IT support orientation should answer questions like these:
Do employees need to access company resources from home via VPN?
Can employees use their personal devices for work purposes? If so, are there any limitations?
Is there any specific software the employee needs to install to do their work? For example, an Endpoint Detection and Response client or similar.
What is the company's approach to personal browsing (e.g. social media) on work devices?
Is there an IT-based phone system (e.g. VoIP) in place, and if so, how can the employee start using it?
Step #4: Cyber security best practices and training
With the world of work existing primarily in the digital space for many companies, cyber security is no longer an optional extra, but an absolute essential.
For new starters in your business, you should take the time to fully train them on the most common vectors of cyber attack and how to identify the signs of these threats. It's also worth considering professional certifications and courses such as the government's Cyber Essentials program. By providing this level of training for new staff, you'll prevent potential breaches, save time and money, and have the peace of mind in knowing everyone is doing their bit to keep your data and your business protected.
Step #5: Confirm they have everything they need
Last but not least, before your new starters are left to their own devices, it's essential that you confirm they're ready – especially when it comes to IT support. The reason for this is that if new employees aren't sure how submit IT support tickets or reach out for help, they may end up either trying to fix issues themselves or losing time to troubleshooting.
By ensuring new starters are familiar with all of your IT processes, you'll feel confident they'll hit the ground running, whether they're in the office or working remotely.
Want to save even more time with IT onboarding?
Getting new team members up and running can be a time-consuming task, even for large corporates with huge IT support teams at their disposal.
So, if you're finding that getting new employees set up with your IT systems isn't a productive use of your time, why not let someone else do it for you?
Whether you already have an IT support resource or you're just starting out, an IT support agreement from Get Support can help take care of all those little things that can sometimes steal your focus. With our help, all of your IT support – including new starter setup and configuration – can be built into your agreement at low monthly cost. That'll leave you and your team with more time to focus on what really matters.
Want to know more about how our IT support agreements can be built around you? Call us today on 01865 594 000 or just drop your details into the form below and we'll be in touch.