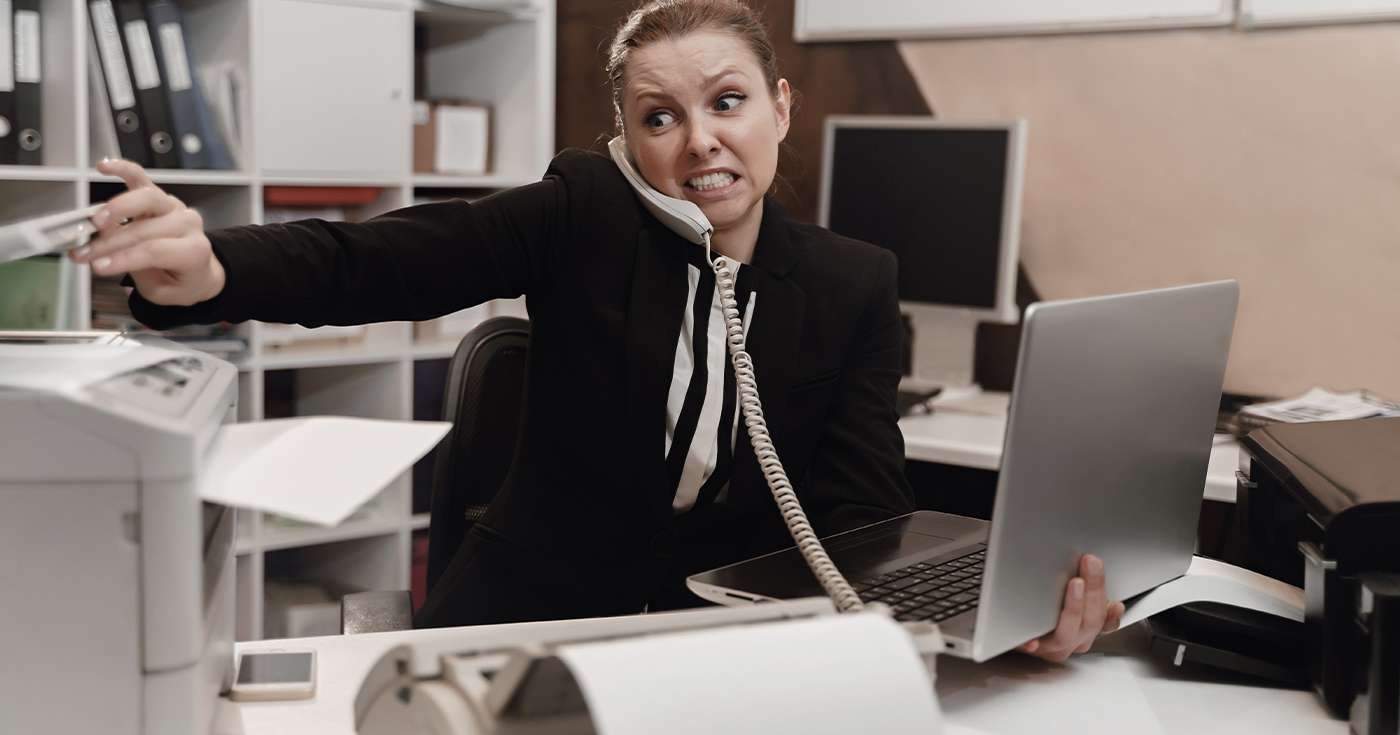 Executive Summary
Buying a printer which is both reliable and easy to use isn't a simple task, especially when there are more options on the market than ever before.
In our buyer's guide to printers for businesses, we'll share exactly what to look for in a new printer – in plain English.
In this essential guide, we'll cover all aspects of modern printers, including form factor, print technology, connectivity, and more.
Introduction
As you've probably heard a million people say at some point, we live in a digital world.
If that's true, the market for printers should be in trouble… right? Wrong.
In fact, in 2019 alone, 94.35 million printers (or related peripherals) were shipped across the world. With the huge shifts in working culture brought about by 2020, it's likely that those numbers will only increase as people begin to build their home offices.
So, whether you're furnishing your spare room or a dedicated office space with some new printer hardware, our buyer's guide to printers for 2021 has everything you need.
Part I: Form Factor
The first category we'll look at when it comes to buying a new printer is particularly important if you're short on space: form factor.
This essentially refers to the physical size of the printer and how much space it will take up in your office. The last thing you want to do is find the perfect printer only to realise it exclusively prints A1 posters.
Here are the key elements of a printer's form factor you should consider:
Paper size is the primary factor in most printer purchase decisions. For general day-to-day use, you're probably looking for an A4 (29.7 x 21cm) printer, but you might also consider one which supports A3 (42 x 29.7cm).
Wide format printers are also available, which are generally reserved for specific large-scale business uses, such as posters. Wide format is usually A1 (59.4 x 84.1cm), A2 (42.0 x 59.4cm) or even A0 (118.9 x 84.1cm).
Feed trays are a consideration if you want to be able to print on to different paper at will. For example, you might have one feed tray with blank paper and another with letterheaded paper.
Finally, be sure to check the physical dimensions of the printer unit itself, then measure your available space to ensure it'll fit.
Part II: Print Technology
Next up, it's time to consider the actual quality of the printing you'll be able to produce with your new unit — and it's here that technology comes into play.
Of course, it should go without saying that, regardless of the technology powering the printer, you'll always be able to choose between colour or black and white, and that's simply a matter of your needs.
Here's what else you need to know about print technology:
Inkjet printers are a solid all-round option for day-to-day printing, but can become costly due the amount of ink they use (even when cleaning themselves). Inkjet is superior for printing colour images.
Laser printers are an excellent choice for high-volume printing. They use toner, which is cheaper than ink, but don't generally print photographs as well as inkjets. That said, more modern laser printers, when paired with the right type of paper, are beginning to catch up (or even exceed) inkjet quality for colour photos.
Solid ink printers are rarer than the previous two options, but they can have some benefits. These printers use 'blocks' of wax-like ink which produce vivid, glossy prints and have less environmental impact – but they can be slow to print as they need to heat up first.
Pay attention to the Pages Per Minute (PPM) value of a printer. This refers to how many pages of black-and-white (not colour) standard pages it can produce in 60 seconds. If you're after volume, a high PPM will be essential.
Part III: Multi-functionality
When is a printer not a printer? When it's a multi-function printer. Of course, the baseline for this guide is a unit which produces physical copies of digital assets — but modern printers can do so much more.
The great thing about this fact is that, if you play your cards right, you might be able to take the cost of another piece of office equipment and have your new printer take care of it for you. One size doesn't always fit all, of course, but multi-functionality can be a big boon for any business looking to optimise costs.
Here's what multi-function printers can do:
Copy / scan / fax features are perhaps the most common forms of multi-functionality with printers for businesses. These can be larger, but the added bonus of being able to copy and scan (and fax, if that's still your thing) can make up for the increased space requirements.
Duplex / double-sided printers, as the name suggests, can be a more efficient way to print – especially at high-volumes. This saves paper and prevents waste, making it a good choice for modern businesses.
Scan to email is a unique feature which lets you scan any document and instantly send it to an email address via the power of the internet. The future is now!
"Follow Me" printing is a form of user-based print queue, which allows your team to log in or authenticate at a particular printer, then have their pages produced there. Among other benefits, this prevents the waste caused from pages being printed but never picked up.
Part IV: Connectivity
When most of us think of hooking up a new printer, images of headaches and frustration often accompany it. It'll be a relief, then, to learn that modern printers offer far more connection options than some printers of the past.
Rather than wrangling with cabling and installing drivers, many printers can now be set up in just a few clicks — and others even support plug and play.
Here's what you need to know about printer connections.
USB connections are still the most common way to connect a printer, although this is generally the case for home users rather than businesses. The biggest downside of USB is that, unless you also invest in a print server solution, you'll only be able to print from one machine.
Network (ethernet) or wireless connections are the most recommended option for small businesses. The reason is that these printers can be used by anyone on the company's network, either connected by ethernet cable or Wi-Fi.
Apple AirPrint is, (surprise!), a connection option designed mainly for Apple operating systems, including both macOS and iOS. AirPrint-supported devices can be connected to directly via the device's own wireless network, (known as Direct Wi-Fi), or through another computer which is connected to the network.
Part V: The true cost of printing
The final category we'll cover in this business buyer's guide to printers is one which might not be immediately obvious: the true cost of printing.
We're not referring to the label price of the printer here, (though that's always a consideration), but instead the cost of actually running your new printer. Think of it like buying a car: you might be able to afford it, but the price of insurance and fuel could well be a bridge too far.
It's for this reason that you should carefully consider all of these factors surrounding the price of your print:
Most printer retailers, including those serving trade and business, will include a Cost Per Page value on their product page. This value is calculated based on how much ink or toner a printer uses along with the speed of the printer. It's actually a better way to judge the overall cost of a printer than simply the initial purchase price.
Choosing a mono printer (i.e. black and white) is a great way to save money if you're not looking for colour printing. For example, a mono laser printer may cost you as little as 0.7 pence per page, whereas a colour inkjet printer could run you up to 10 pence per page.
As a general rule, the more expensive printers will have lower overall running costs in the long term. So, while it may seem off-putting to see a high ticket price, it's always worth looking at the Cost Per Page pricing and the price of ink / toner refills to assess the true cost.
Before you buy a new printer (or printers), be sure to ask yourself whether you might be better off with a lease rather than a buy. (We've covered this topic at a high level before, which may be helpful here).
Want an easier way to pick a printer? Ask Get Support
With each business having totally different needs when it comes to printers, we won't be sharing a specific recommend configuration with this guide – but we hope the details we've covered will give you a great place to start.
And, if you're in the market for any other new additions for your business, be sure to check our other Business Buyer's Guides:
To learn more about our IT support agreements, which include advice and consultation for all your IT hardware, call the team on 01865 59 4000 or fill in the form below.