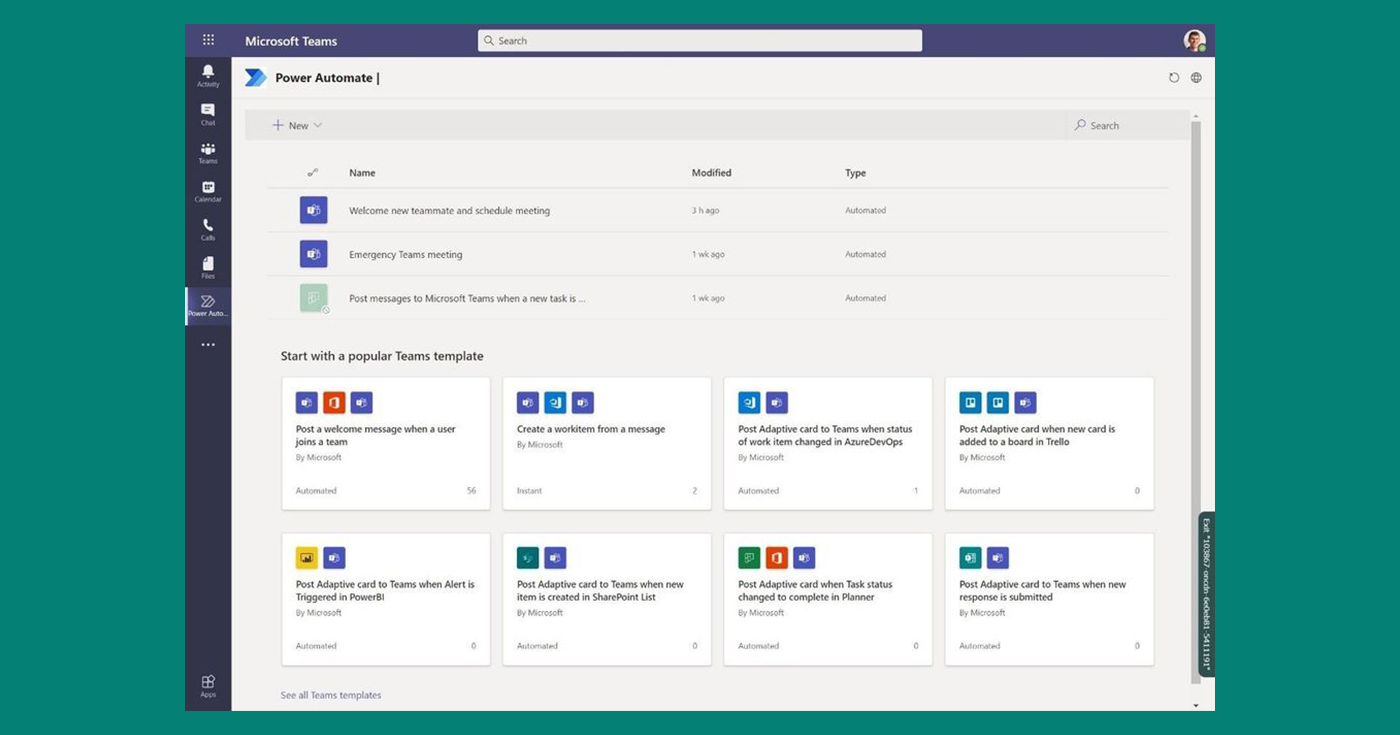 Executive Summary
Our What's That App? series on the Get Support blog delves into the detail of those lesser-known apps, many of which are available with Microsoft 365.
In this edition, we'll introduce you to Microsoft Power Automate.
Microsoft Power Automate is an automation platform which allows you to create customised workflows to carry out tasks on your behalf automatically. Power Automate seamlessly connects apps and services to save you time in your working day.
Introduction
Do you ever find yourself frustrated by needing to repeat the same tasks again and again?
Ever wish you could just clone yourself to avoid some of those smaller jobs that just need to be done?
With Microsoft Power Automate, you can build intelligent workflows which automate time-consuming manual tasks and completes them on your behalf. The app seamlessly connects the apps and services you use most – leaving you free to focus on the more important things.
Let's learn more about Power Automate and how you can get started with the platform today to optimise your working day.
What is Microsoft Power Automate?
The world of work has never been so full of distractions. With pop-up notifications, reminders pinging left and right, and a never-ending to-do list, it can be tough to keep up.
Microsoft Power Automate, formerly known as Microsoft Flow, was built to help you take care of the little stuff, so you can focus on the big stuff.
With Power Automate, you can create complex interconnected workflows which cause a chain reaction resulting in saved time and better productivity. The system is based on triggers and actions, and allows you to build these workflows in a visually way without the need for code or any technical skills. Much like a flowchart, you simply drag and drop the triggers and actions you want, and Power Automate does the rest.
The platform currently supports over 100 different connectors which you can bring in to your workflows, including:
Office 365 Outlook
OneDrive for Business
SharePoint
Twitter
Google Calendar
Gmail
Github
… and many more
Power Automate's simple workflow builder allows you to construct simple yet powerful flows of actions and trigger and include logic too. So, you can set conditional actions based on whether someone answered 'yes' or 'no' to a question, for example.
Examples of Microsoft Power Automate workflows
Sometimes the best way to understand an app is to see what it can do. While the true value of Power Automate lies in its ability to create workflows entirely tailored to your business, it does offer many different templates to help you get started.
Here are a few examples of what Power Automate's workflows can do:
Get a push notification every time your boss emails you.
Make a post in a Microsoft Teams channel when a new task is created in Microsoft Planner.
When a file is approved, move it to a different folder in Microsoft OneDrive.
Create a button which sends an email to your whole team reminding them to join a meeting.
When a Microsoft Forms submission is made, add the responses to an Excel spreadsheet and post a notification to Microsoft Teams.
Of course, these are just a handful of examples from Microsoft's templates. When it comes to creating your own workflows, the sky really is the limit.
How to start using Microsoft Power Automate
You'll have to bear with us here, because the licensing options for Power Automate can be a little tricky to navigate.
If you're not a Microsoft 365 subscriber and you're interested only in Power Automate, you can access the platform in the following ways:
Per user plan: Individual users can create unlimited workflows at a price of £11.30 per user per month.
Per user plan with RPA: Similar to the plan above, but with the added option to use "Robotic Process Automation" to bring in older legacy apps to your workflows. This is priced at £30.20 per user per month.
Per flow plan: This option is for businesses that want up to five specific flows available to unlimited users. This is priced at £377 per month for five flows.
That's one option, but here at Get Support, we're strong proponents of the Microsoft 365 package – and it's actually a great way to access Power Automate.
Provided you're subscribed to at least the Microsoft 365 Business Basic plan (starting at £3.80 per user per month), you'll be able to use Power Automate in the following way as part of your subscription:
Use automated, instant, and scheduled flows.
Access to all standard connectors with the option to use premium connectors at additional cost.
Make up to 2000 daily API requests (i.e. every time a connection to a new app is made within a workflow).
Power through your working day with Microsoft 365
If you're intrigued by the automation possibilities of Power Automate, the best way to make use of it is with a Microsoft 365 subscription.
As a direct Microsoft Cloud Solution Provider, the team at Get Support can help get you set up with a new subscription in no time – and help you configure it all too.
If you'd like to know more or get started with Microsoft 365 today, fill in the form below or call the team on 01865 59 4000.