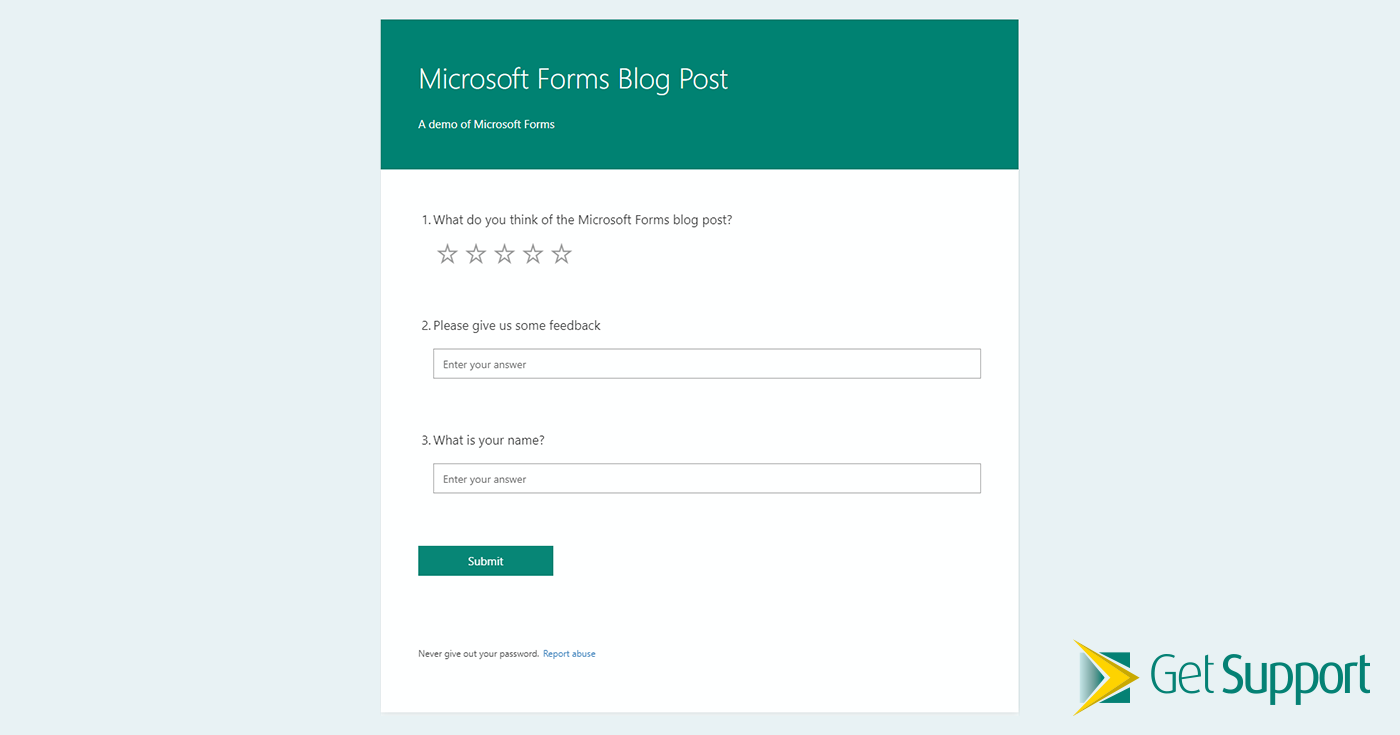 Executive Summary
Our What's That App? series on the Get Support blog delves into the detail of those lesser-known apps, many of which are available with Microsoft 365.
In this edition, we'll introduce you to Microsoft Forms.
Microsoft Forms is an online survey creator which allows you to build surveys, polls, and quizzes to share via desktop or mobile web browser. Results can be instantly exported to Microsoft Excel for analysis.
Introduction
How do you ask questions of your business?
Whether you're looking for customer feedback on specific products or trying to gauge employee satisfaction, many companies choose to use surveys – or even quizzes and polls – to get the inside track.
But with so many online survey tools available, which one do you use?
If you're a Microsoft 365 subscriber, there's no need to splash out for anything new, because you already have a great option available to you: Microsoft Forms.
What is Microsoft Forms?
Microsoft Forms is an online survey creation tool which allows you to create surveys, quizzes, and polls.
Originally launched in June 2016, Microsoft Forms is a lightweight and responsive app which you can access from any modern browser on Windows or Mac – and even mobile browsers on iOS and Android.
Along with the ability to create and share a link to surveys, quizzes, and polls, Microsoft Forms also offers:
Instant export to Microsoft Excel for in-depth data analysis of your results data.
Full (and seamless) integration with Microsoft Teams. Simply add a Forms tab to any of your Channels and invite members to take the survey, quiz, or poll – or display results for the team to see.
Branching questions, so you can build logic right into your form to get the answers you need.
Customisation options and themes to bring your own branding to your Microsoft Form.
Automatic grading of quizzes, so you can assign points to students or other learners.
What is Microsoft Forms Pro?
If you're familiar with Microsoft Forms, you might also have heard of Microsoft Forms Pro. Originally designed to be a more feature-rich version of Forms, Microsoft eventually spun it off into a dedicated app known as Dynamics 365 Customer Voice.
Using Microsoft Forms as its basis, Customer Voice enhances functionality with enterprise-class analytics tools suitable for very large multinational companies. But for most SMEs? We'd say that Microsoft Forms is more than enough – especially when it's combined with the full complement of Microsoft 365 apps, including the classic Office apps, Word, PowerPoint, and Excel.
How to start using Microsoft Forms
One of the best things about Microsoft Forms is that it's available to anyone completely free. That's right – all you need is a free Microsoft account and you'll be able to use Forms right away by heading to forms.microsoft.com.
That said, if you're looking for even more flexibility – and the ability to export your results directly into Microsoft Excel – Forms works best with a Microsoft 365 subscription.
It's available with the following plans:
Microsoft 365 Business Basic and above. Starting at £3.80 per user per month (exc. VAT) with annual commitment.
All Microsoft 365 Enterprise plans (F3, E3, E5). Starting at £7.50 per user per month (exc. VAT) with annual commitment.
Want to boost your business productivity? Try Microsoft 365 today
Microsoft Forms is a great way to learn more about your business, its customers, and its staff.
So, if you're tempted to give it a try, why not go one step further and look into the full Microsoft 365 productivity suite? If you've never tried it before, you don't know what you're missing – but we can show you.
Get in touch via the form below, or by calling the Get Support team on 01865 59 4000, and we'll get your business up and running on Microsoft 365 in no time.