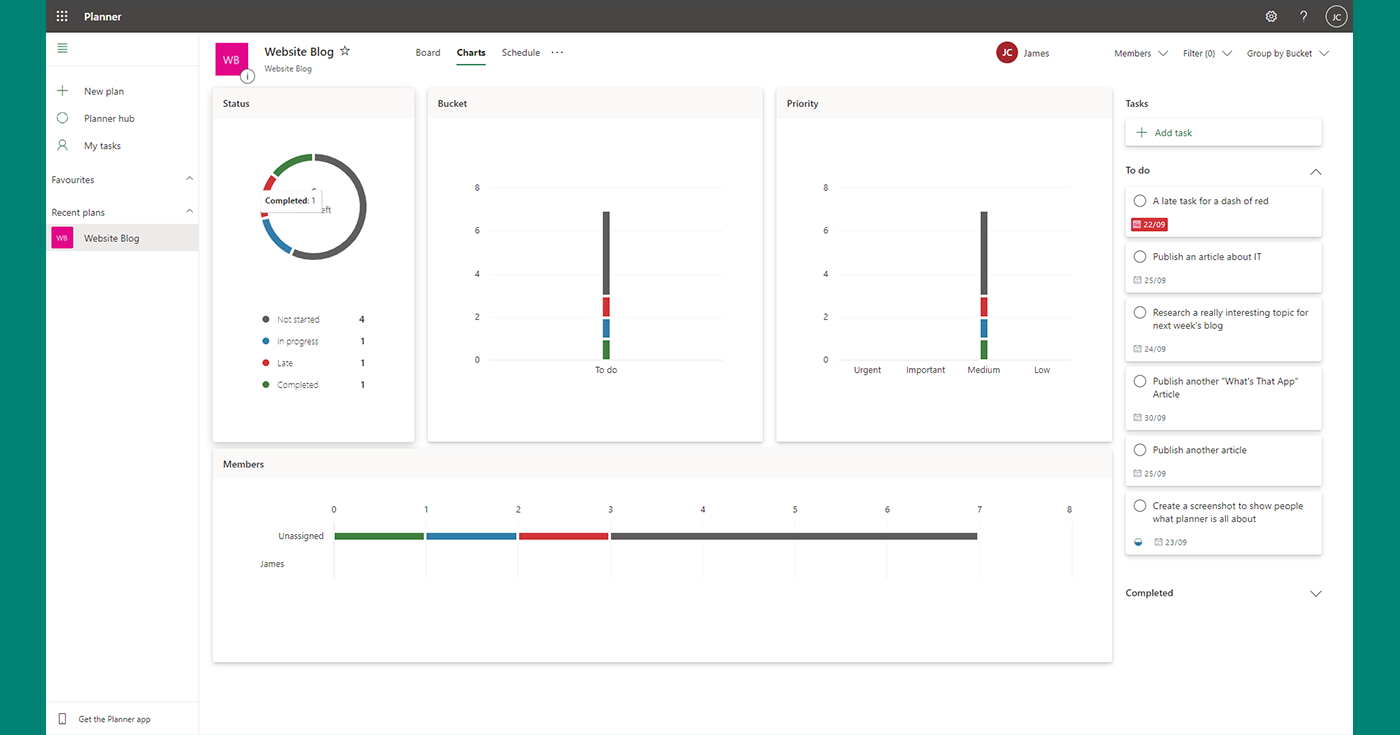 Executive Summary
Our What's That App? series on the Get Support blog delves into the detail of those lesser-known apps, many of which are available with Microsoft 365.
In this edition, we'll introduce you to Microsoft Planner.
Microsoft Planner is a visual team-based project management tool which uses Kanban boards to showcase tasks across Microsoft 365 groups.
Introduction
When it comes to productivity, Microsoft 365 is no slouch.
From the classic Office apps to new-kid-on-the-block Microsoft Teams, if you like to get things done, a 365 subscription really is the gift that keeps on giving.
Today, we're going to look at another lesser-known productivity app which is available with most 365 business plans: Microsoft Planner.
Designed to visualise tasks in a way that makes them easier to manage and track, Microsoft Planner is a powerful visual way to keep your team focused on project goals.
What is Microsoft Planner?
If you've ever tried to complete a large-scale team project using only a simple task list as a tool, you'll know it can be an exercise in futility.
While to-do lists still have their place in an effective workflow, when it comes to managing bigger projects with multiple colleagues, visualisation can be a powerful tool – and that's exactly what Microsoft Planner provides.
Microsoft Planner is a visual project management tool based on the concept of the Kanban board.
A Kanban board allows you to create different lanes or columns, then add 'cards' representing individual tasks to each one. For example, you might choose to have a 'Planned', 'In Progress', and 'Complete' column, then add tasks as necessary. When a particular task is done, any member of the team can drag the relevant task card to the 'Complete' column and the plan will be updated everywhere.
Along with the powerful Kanban-based project management, Microsoft Planner also offers:
Simple drag-and-drop interface. Once created, any team member can drag and drop tasks to update task status in moments.
Content-rich task cards. Simply click into any of the cards to see options like due dates, assigned team members, attached files, labels, and more.
Anytime status insights. Get at-a-glance understanding of where your projects stand with an automatically generated insights dashboard featuring bar charts and more.
Flexibility accessibility. Microsoft Planner is available in your web browser via the Microsoft 365 / Office.com app selector. It's also available on mobile for both iOS and Android.
Does Microsoft Planner work with Microsoft Teams?
Because of its deep integration with the Microsoft 365, Microsoft Planner offers several benefits for those working across the suite of apps.
Microsoft Planner is available in Microsoft Teams as a fully integrated app, so all you need to do is head to one of your Channels, click the + button to add a tab, then select Planner.
After a plan is created, Channel members will be able to view it anytime via a dedicated tab.
Once again thanks to the deep integration with Microsoft 365, each of your plans will use the groups you've already set up elsewhere in 365 – saving you time setting up permissions. For example, when you add a Planner tab within Microsoft Teams, the default accessibility option will allow all members of that Channel (or group) to view the plan.
Of course, you can always set plans to private when necessary.
How to start using Microsoft Planner
Microsoft Planner is one of the most widely accessible apps within the Microsoft 365 productivity suite. If you're a subscriber, you probably already have access to it – but if not, here's how you can start using Planner today.
Microsoft 365 Business Basic and above. Starting at £3.80 per user per month (exc. VAT) with annual commitment.
All Microsoft 365 Enterprise plans (F3, E3, E5). Starting at £7.50 per user per month (exc. VAT) with annual commitment.
Note that the only subscription for which Planner isn't available is the apps-only Microsoft 365 Apps subscription.
Supercharge your team productivity with Microsoft 365
Whether you're just getting started with remote working or you've simply found yourself in need of some digital productivity help, Microsoft 365 is the solution. With an app for practically every business need, you'll be able to supercharge your teamwork and collaborate wherever you are.
Interested in learning more? Ask our team today for expert, plain English advice on exactly which Microsoft 365 plan is right for your business.
To get the ball rolling, just pick up the phone and call 01865 59 4000 – or simply fill in the quick form below.