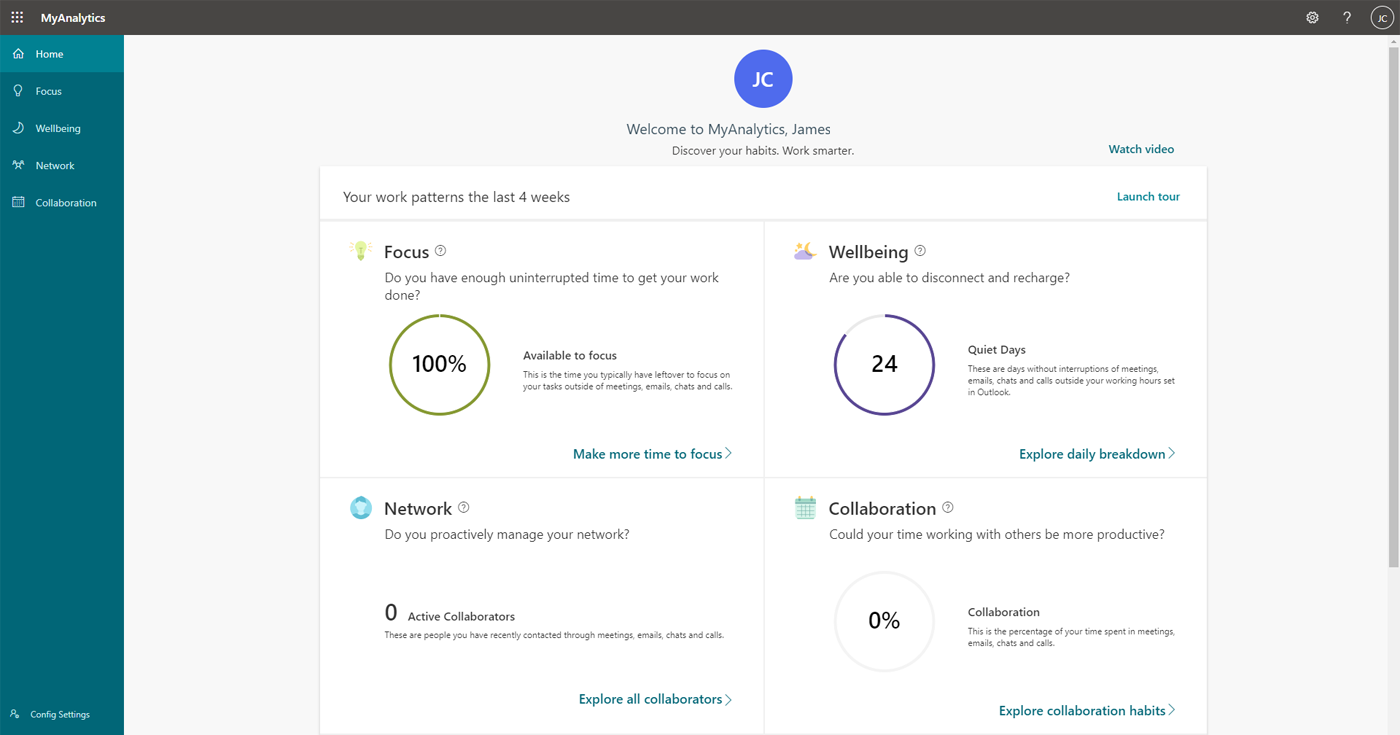 Executive Summary
Our What's That App? series on the Get Support blog delves into the detail of those lesser-known apps, many of which are available with Microsoft 365.
In this edition, we'll introduce you to Microsoft MyAnalytics.
Microsoft MyAnalytics helps you supercharge your productivity by tracking exactly how (and where) you spend your working time.
Introduction
Today, almost everything we do is trackable.
We wear fitness trackers on our wrists to count our steps, there are apps to keep tabs on our sleep patterns, and plenty more.
But there's one area which many of us aren't tracking when we really should – and that's our workplace productivity. This isn't all about getting more work done; in fact, the opposite is often true. We all need to balance work output with downtime, and the Microsoft MyAnalytics app is designed to do exactly that automatically without you lifting a finder.
Let's learn more about how it works.
What is Microsoft MyAnalytics?
MyAnalytics is a productivity tracking tool which is deeply integrated with Microsoft 365.
It gives you the opportunity to see exactly how you are spending your time and delivers actionable insights to help you work smarter – not harder.
At its core, MyAnalytics will track how much time you're spending collaborating with others (e.g. in Teams meetings), focused on your tasks, and disconnected from work entirely. All of these are important, of course, so MyAnalytics is a fast and simple way to quickly understand how you're balancing each area.
The best part? It operates seamlessly in tandem with Microsoft 365, tracking how you use each of the apps and using that data to populate your MyAnalytics dashboard.
How MyAnalytics could help you be more productive
With MyAnalytics operating in the background, it's easier than ever to understand your own work patterns.
Don't worry – only you can see your usage data, so you don't need to worry about being compared with others. You can also opt out if you prefer not to use the system. MyAnalytics is all about giving you insights into how you work, then helping you make improvements to work smarter.
Here's how MyAnalytics might help you do that:
Get at-a-glance oversight of how productive you are with the MyAnalytics dashboard. Log in anytime to see the dashboard, which lets you know how much time you've spent focused on work, your wellbeing, and collaborating with colleagues.
Understand how you're spending your time with the "Focus", "Wellbeing", and "Collaboration" insights. Recommendations for three categories are based on how you use Microsoft 365. "Collaboration" is based on time spent in Teams meetings, emails, chats, etc., "Focus" is your working hours minus your collaboration time, and "Wellbeing" tracks time when you didn't have significant collaboration taking place.
AI-powered suggestions built right into Outlook. With the Insights add-in for Outlook, you'll be given timely inline reminders about upcoming tasks or suggestions about taking breaks based on how much time you've been working.
Weekly email digests with highlights of your previous week. So even if you don't have time to stop by the dashboard, you can still see your relevant insights and use them to adjust your workflow.
How to start using Microsoft MyAnalytics
MyAnalytics is one of the most accessible apps of the entire Microsoft 365 suite, meaning it's simple to start tracking your productivity and improving your work/life balance.
All you need is one of the following:
Microsoft 365 Business Basic and above. Starting at £3.80 per user per month (exc. VAT) with annual commitment.
All Microsoft 365 Enterprise plans (F3, E3, E5). Starting at £7.50 per user per month (exc. VAT) with annual commitment. Note: Enterprise versions of MyAnalytics also include a couple of extra features including the ability to track email open rates.
Once you're signed up to one of these Microsoft 365 plans, you'll be able to jump straight into Microsoft MyAnalytics by going to myanalytics.microsoft.com.
Not yet a Microsoft 365 subscriber? Drop us a line
With MyAnalytics forming just one tiny part of the overall Microsoft 365 package – along with the class Office apps and much more – there's never been a better time to subscribe.
If you're not sure which Microsoft 365 business plan is right for you, don't worry – we're here to help. As a Microsoft Direct Microsoft Cloud Solution Provider, we can help you get the very best deal (with no middleman required).
Call our expert IT team today on 01865 59 4000 to learn more and start using handy apps like Microsoft MyAnalytics.