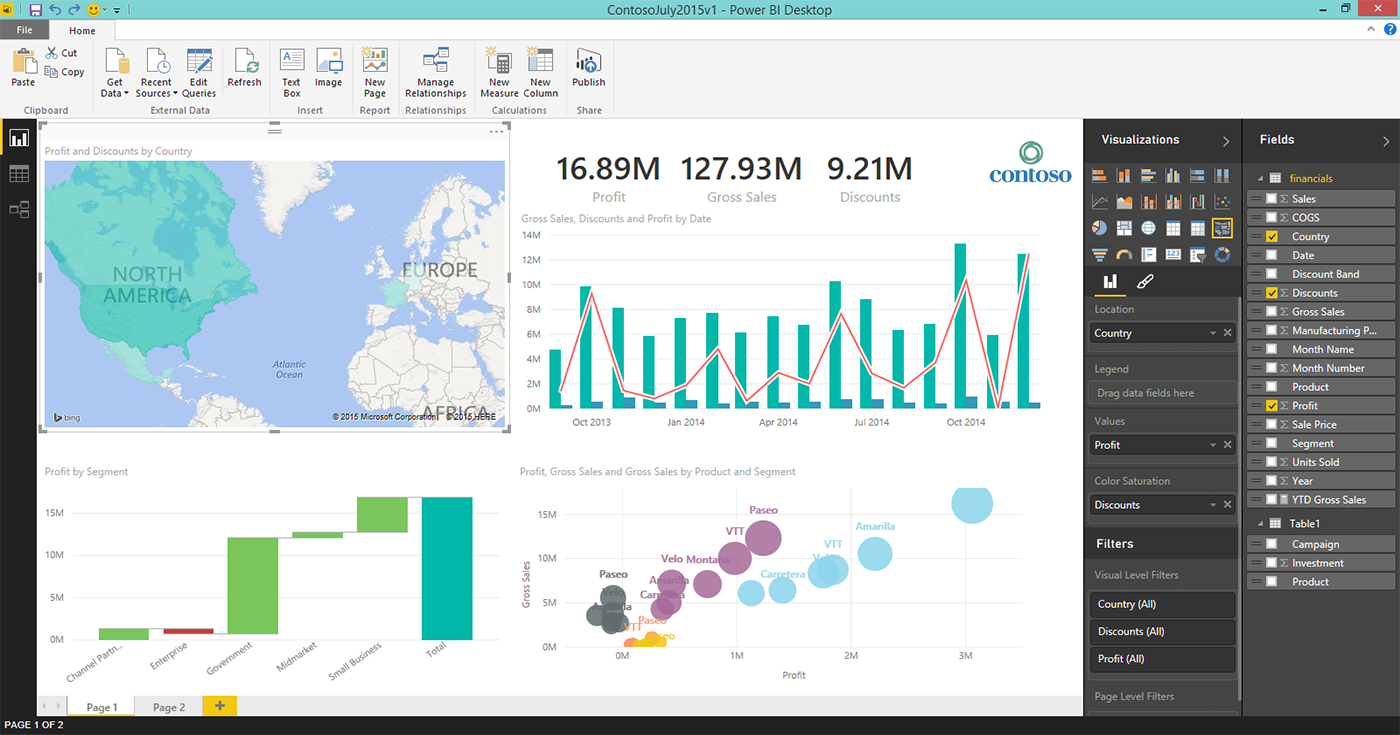 Image credit: Microsoft.com
Executive Summary
Our "What's That App?" series on the Get Support blog delves into the detail of those lesser-known apps, many of which are available with Microsoft 365.
In this edition, we'll explore Microsoft Power BI. This is a suite of apps and services which allows you to bring together your business data from various sources and display it as rich, dynamic, engaging visualisations.
Introduction
Microsoft is famous for its scattershot approach to software development.
With new apps being developed all the time, it can be tough to keep up as a business.
What's more, many of these apps are actually available as part of your Microsoft 365 subscription – you just don't know about them.
In this spirit, we've created a new series of articles called "What's This App?" where we'll give you the lowdown on some lesser-known apps, especially those accessible with Microsoft 365.
Let's begin with one particularly enigmatic suite of apps: Power BI.
What is Microsoft Power BI?
Microsoft Power BI is a collection of different apps, tools, and services which come together to enable the visualisation and reporting of business data from any number of sources.
Whether you host your data in Microsoft Excel spreadsheets, Azure databases, SharePoint, Salesforce, or really anywhere else, Power BI can bring data together in real time for analysis and reporting and turn raw facts and figures into visually engaging insights, like charts and other data visualisations.
Even better, you can then share these insights as real-time, always-updated dashboards or simple PDF or Excel spreadsheet exports – the choice is yours.
The anatomy of Power BI
Because Power BI is so wide-ranging in scope, the way you interact with it differs depending on your particular needs, or your role.
Out of the box, Power BI provides three core experiences:
The Windows application, Power BI Desktop. This allows single users to link sources and create or edit visualisations, reports, and so on from their PC.
A cloud-based app called Power BI Service, which allows you to view and interact with (but not create or edit) dashboards, reports, datasets and visualisations.
The Power BI mobile apps for Windows, iOS, and Android mobile devices, which allow you to view your dashboards and reports anywhere, anytime.
How to get started with Microsoft Power BI
If you're keen to explore the data visualisation potential of Power BI, there are several different ways to begin using the suite of apps.
If you simply want to start connecting your data sources, playing around with data visualisation, and simply seeing what's possible, you can download the Power BI Desktop app and start right away. This will grant you a Power BI Free account, which will let you author reports and work with data, but won't let you share with others (among other restrictions).
In terms of paid solutions, there are two different editions of Microsoft Power BI:
Power BI Pro, which is charged at £7.50 per user per month. This is also available as part of the Microsoft 365 Enterprise E5 subscription.
Power BI Premium, which is charged at a single monthly rate of £3,766.60
It's also worth noting that Microsoft Power BI Pro is also available as a 60-day free trial for individual users.
To learn more about Power BI's pricing structure, or sign up for a free trial, contact Get Support using the contact form at the bottom of this page or by calling 01865 59 4000.
Power BI Pro vs. Power BI Premium
So, what's the difference between Pro and Premium? It's really all about scale.
The Pro option is ideal for single users or small teams who want self-service solutions fully managed by Microsoft in the cloud off-site.
The Premium option, on the other hand, is perfect for enterprise-sized companies who want full on-site reporting via local servers (and the cloud, if required), more storage, the ability to share data with external users, and more.
Want to learn more about what's possible with Microsoft 365?
If this is the first you've heard about Power BI, what else are you missing from the Microsoft 365 family?
Microsoft have produced so many apps and solutions that it can be tough to keep track – but many of these can prove transformative to a business.
If you'd like to learn more about what's possible with Microsoft 365, call the Get Support team today on 01865 59 4000.