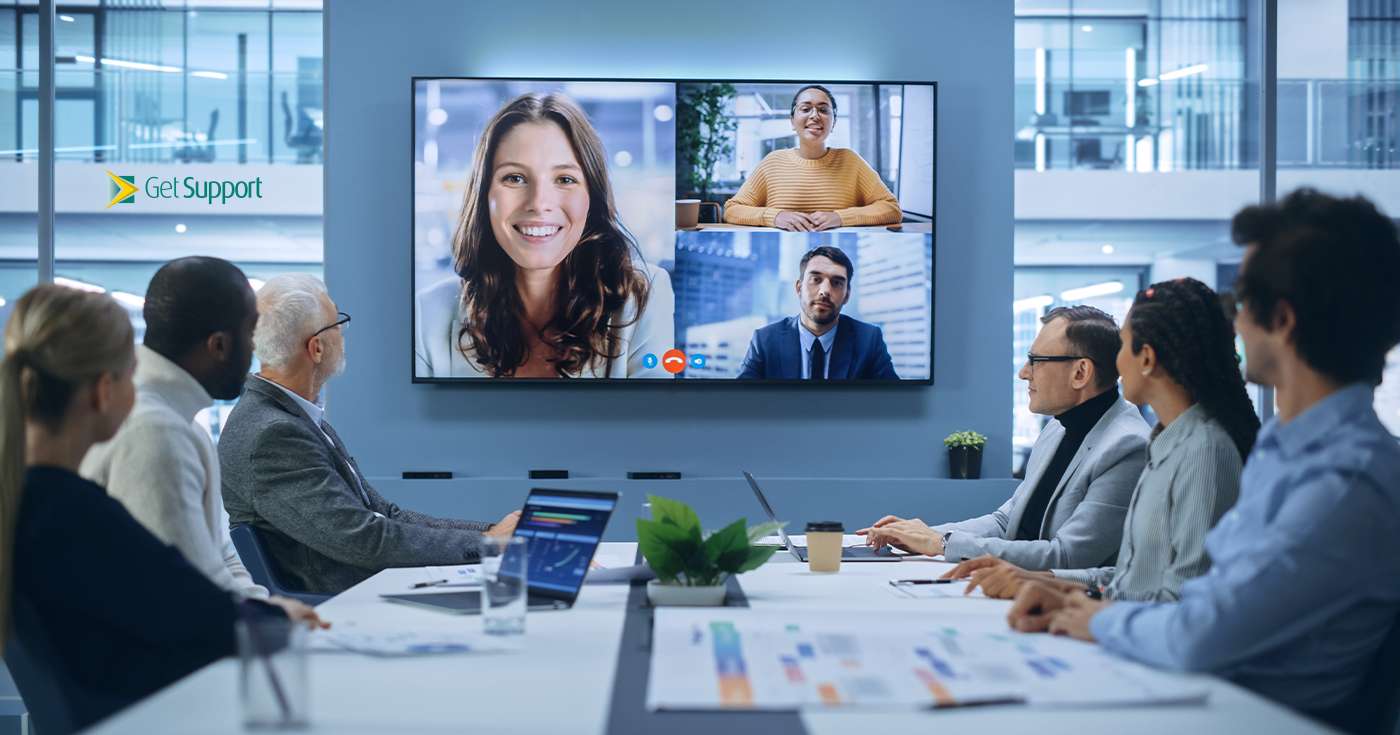 Executive Summary
Since the world changed in 2020, the way businesses work has changed too – especially around where we do our work. Both fully remote and hybrid roles and now more commonplace than ever.


To enable collaboration between employees at home, in the office, or anywhere else, companies need the right technology to remove friction and maximise productivity. The answer? Microsoft Teams Rooms.


Microsoft Teams Rooms delivers hybrid meeting solutions which allows near limitless customisations, including one-touch join, proximity join, unique hardware, simplified meeting booking, and much more.


Introduction
Picture the scene: you're sitting in a meeting room waiting for your colleagues to join you.
Someone enters the room without their laptop, so they have to share yours. That means trying to angle your screen just right so everyone can see you both. Not only that, but you'll appear as the same person in the call, which can be confusing. Beyond that, someone else is dialling in from another room in the office, but their laptop is taking a while to start up, which slows everything down. Even after everyone is present, the people at home won't be able to see the whiteboard in the meeting room, so important details are missed.
Before you know it, 15 minutes have passed and not a single agenda item has been addressed. It can quickly get quite messy… and not very productive, either.
All of the friction and faff which can be involved with remote meetings doesn't have to be as stressful as it is – and Microsoft has recognised this.
As a response, they've created Microsoft Teams Rooms, and we're about to tell you everything you need to know about it.
What is Microsoft Teams Rooms?
As the world changed following the global pandemic beginning in 2020, many of us shifted to either remote or hybrid forms of working.
This working model is great in terms of flexibility, productivity, and work/life balance, but it's not without its challenges. One of the most common hiccups is managing meetings. As described above, it can be really tough to get multiple people 'in the room' together, especially when they're distributed.
Microsoft Teams Rooms seeks to bridge the gap between in-office and remote or hybrid working by delivering the technology to enable frictionless, stress-free meetings based on the Microsoft 365 and Teams infrastructure. It does this by implementing new hardware and technologies into your meeting rooms supported by a subscription-based software solution.
The aim of Teams Rooms is to create a blended physical and virtual shared meeting and workspace where everybody has an equal presence in the room. For example, whether you're physically sitting in a chair in the meeting room, or on your mobile phone in an airport lounge, you have equal access to the content and conversations of the meeting. Teams Rooms achieves this by implementing smartly designed technologies including cameras, microphones, speakers, screens, video call layouts, shared whiteboards, and much more.
Teams Rooms naturally integrates with Microsoft Teams and Outlook, meaning rooms can be booked in seconds and meetings can be joined even faster – including by simply walking into the room.
Is Microsoft Teams Rooms right for your business?
The benefits of a platform like Teams Rooms should be pretty clear, especially if you've spent time feeling frustrated by hybrid meetings over the last couple of years.
Even so, you probably still have plenty of questions about the benefits of Teams Room. With that in mind, we've reviewed everything we know about Teams Rooms and highlighted some of the most compelling features for small businesses in the UK.


One-touch Join allows any participant to start a meeting at the touch of a button. When inside a physical Teams Room, doing this will enable the cameras, speakers, and microphones, along with any shared resources such as whiteboards.


Proximity Join allows any enabled devices to detect when they're inside a Teams Room automatically. Once you're in the room, you can use one-touch join to jump straight in – no need to waste time dialling in, finding join links, or asking anyone else to invite you.


Teams Panels are touchscreen devices (like tablets) which are generally attached to the exterior of a Teams Room. They are connected to the Teams and Outlook infrastructure allowing team members to see which room is booked and when, or instantly reserve then start a meeting in a room in a few taps.


Intelligent Content Capture will use in-room cameras to identify and capture video feeds of physical objects like whiteboards, then share it automatically with all attendees within a Teams Room call, no matter which device they're using.


Scaling to any meeting room size means that you can use Microsoft-certified hardware to suit the space you have available. For smaller rooms, a single screen with one camera and microphone may be enough, but for larger spaces, you can install 3 or more screens with ceiling mics, intelligent tracking cameras, and more.
How to get started with Microsoft Teams Rooms
There are currently two flavours of Teams Rooms available: Standard and Premium.
The Standard plan includes everything you need to get started – other than the required hardware itself – and is available at a cost of £11.30 per device per month, excluding VAT. You simply need to enable Teams Rooms for your chosen device (e.g. a Windows laptop or Surface) and you'll then be able to enjoy all of the frictionless meeting features discussed above.
Teams Rooms Premium is charged at £37.70 per device per month, excluding VAT, and essentially offloads all of the operational management of Teams Rooms to Microsoft itself. This may be a good option for some companies, but we generally recommend Standard for most UK small businesses who want to get started with Teams Rooms.
Start using Teams Rooms today with Get Support
At Get Support, we've spent a lot of time recently working with Microsoft Teams Rooms and setting up entire systems for our clients.
Not only can we help you make the most of your hardware setup to enable seamless hybrid meetings, but we can also take the sting out of managing your subscriptions. In fact, if you don't have a Microsoft 365 subscription yet, we can help you hit the ground running with a 365 plan and Teams Rooms together.
To learn more about Teams Rooms, or to talk about getting it set up in your business, call our team now on 01865 594 000 or fill in the form at the bottom of this page.