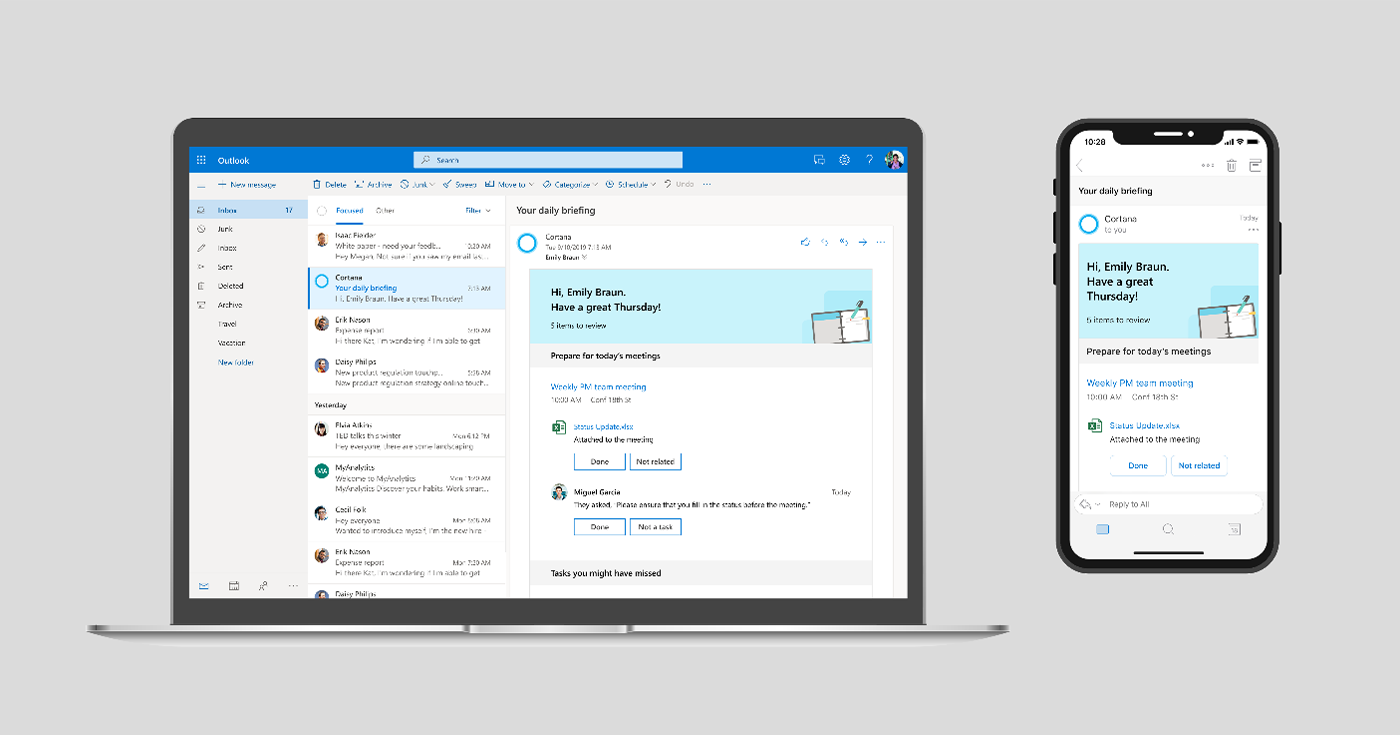 Image credit: microsoft.com
Executive Summary
The ever-popular productivity suite, Microsoft 365, is aiming to make your day run a little smoother with the new Briefing email feature.
The daily Briefing email, delivered by Cortana within 2 hours of the start of your working day, is available for all Microsoft 365 subscribers in the English language.
A Briefing is an email summary of your day that arrives in your inbox each morning and includes various smart features to help you be more productive, such as in-line dynamic updates and responses.
Introduction
How do you like to start your day?
A fresh cup of coffee? A piping hot bowl of porridge? Or perhaps a good old-fashioned Full English?
If we haven't sent you rushing to the kitchen, here's another idea from the team at Microsoft 365: the daily Briefing email from Cortana.
If you've ever fancied hiring a personal assistant but couldn't quite make the maths work, this might be a good place to start.
Here's what small businesses need to know about the daily Cortana Briefing email.
What is the daily Cortana Briefing email?
Most of us take a few moments at the start of the day to glance at what's lined up for us.
That might be meetings, reminders, and other items we might need to prepare for in advance. Commonly, it's up to you to manage this process in a way that works best for you: reminders on your phone, dedicated to-do list apps, or even the classic PostIt note might work.
Microsoft are aiming to make your day run a little more smoothly with a new feature for Microsoft 365 subscribers known as the Briefing email.
How does it work? Well, each morning, within 2 hours of the start of your day (as per your Outlook calendar), you'll receive an email from Cortana with the subject line "Your daily briefing".
You'll see a friendly 'good morning' followed by one or more of the following elements:
A schedule of meetings for the day, including links to any files you might need for these appointments.
A reminder of any outstanding tasks you might have to take care of. This is based on the tasks you have marked for action in Outlook.
Book in some focus time to ensure you get stuff done (Adaptive version only)
Plan your commitments and follow-ups for the week ahead (Adaptive version only)
The two flavours of the Briefing email
You've probably noticed the mention of the "Adaptive" version of the Briefing email above, and that's an important part of the Briefing email.
The daily email actually comes in two different variants depending on how you're viewing it: Adaptive or HTML.
Here's the difference between the two:
The Adaptive Briefing email is available for all users who are using OWA (Outlook Web Access), Outlook mobile (iOS or Android), or the Outlook for Windows or Mac desktop apps. It is a far more interactive version of the Briefing email and allows you to make changes, set reminders, or postpone tasks directly from the email without following any links. It also seamlessly syncs with Microsoft MyAnalytics to allow you to book Focus Time whenever you need to.
The HTML Briefing email includes the same core content as Adaptive, but without any of the dynamic elements. If you click links or interact with the email, these items will be opened in a new browser tab, rather than being actioned in-line instantly. This version is what you'll see if you use a non-Outlook client.
Essentially, you'll be able to enjoy the core features of the Briefing email even if you're not using Microsoft 365's other apps and services – but you'll have the best experience if you're using 365 across your business.
How to access and enable the daily Cortana Briefing email
If you're already a Microsoft 365 subscriber, the daily Briefing email from Cortana should be available right now.
If you're not already receiving it, speak to your administrator who will be able to enable it either for individual users or the entire organisation (or "tenant").
If any of this sounds a bit overwhelming or confusing, don't worry – the first Briefing email you receive from Cortana will include a quick primer on how everything works.
You'll also be given the opportunity to customize the email to your liking or even unsubscribe from the daily Briefing emails entirely if it's not your thing. That said, once you've given Cortana a trial run as your start-of-day personal assistant, we don't think you'll want to go back.
So how can you get started?
Join the Microsoft 365 revolution today
If you like the sound of a daily pep-talk from Cortana, you'll be pleased to know there's so much more to love with Microsoft 355.
For businesses both big and small, a Microsoft 365 subscription is one of the best value investments you'll ever make. From email for your whole organisation with Microsoft Exchange to the complete productivity suite of Microsoft Office (including Microsoft Teams), 365 really does deliver everything a modern business to stay productive and prosperous.
As a direct Microsoft Cloud Solution Provider, the Get Support team is here to help you get the best deal on a 365 subscription and get up and running fast, too. Learn more by calling us today on 01865 59 4000 or filling in the form below.