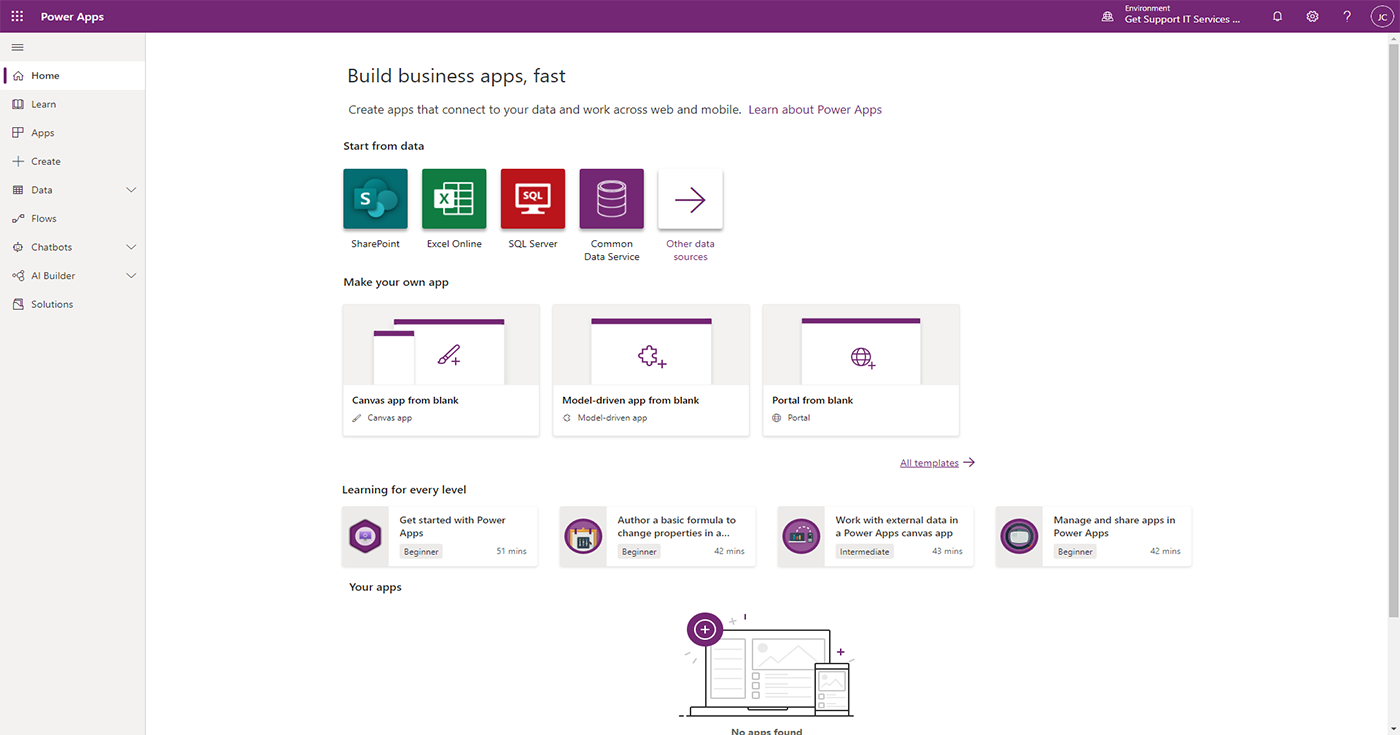 Executive Summary
Our What's That App? series on the Get Support blog delves into the detail of those lesser-known apps, many of which are available with Microsoft 365.
In this edition, we'll introduce you to Microsoft Power Apps.
Microsoft Power Apps is a "no code" development platform which allows anyone to create their own apps using a simple drag-and-drop interface. These apps can integrate fully with Microsoft 365 apps and data sources, including SharePoint.
Introduction
Have you ever wished you had a dedicated app to make your day-to-day work that bit easier?
Or perhaps you've had an idea for an app but don't have the budget or the resources to hire a full development team?
If either of these scenarios sound familiar, today's edition of What's That App? should be just your cup of tea.
So, let's take a closer look at Microsoft Power Apps.
What is Microsoft Power Apps?
Microsoft Power Apps is a platform designed to enable anyone to create their own web or mobile app – without writing a single line of code.
Power Apps is similar in design to Microsoft Power Automate – another app we've looked at as part of the What's That App? series – but offers much deeper functionality. Rather than single-use workflows, Power Apps can be complex applications with third-party integrations, multiple users, and a range of data sources.
The Power Apps platform is part of the Microsoft Power Platform, which includes Power Automate, Power BI, and Power Virtual Agents.
This also includes access to the Common Data Service, which is essentially a shared database for all of these services so that each one can seamlessly integrate with one another. It's used to store 'entities' which each app can then reference. These could be products, users, images, videos – or really any asset you might want to include in your app.
What type of experience can you create with Power Apps?
The types of experience you can create with Microsoft Power Apps break down into two distinct categories: the Canvas App and the Model-Driven App.
We'll look at exactly how each of these are licensed shortly, but first let's explore the difference between them, and what they can offer in terms of functionality:
Canvas Apps are created using the complete no-code, drag-and-drop app builder within Power Apps. Users can build their app using a visual editor similar to Photoshop, and preview exactly what it'll look like to end users. Canvas Apps can pull from over 200 data sources, including your own 365 sources like SharePoint and Power BI.
Model-Driven Apps are essentially more complex, logic-focused applications which offer less visual control than the Canvas Apps but more advanced capabilities. The design of your Model-Driven App will depend on the components you include. Model-Driven Apps require access to the Common Data Service.
How to start using Microsoft Power Apps
Just like Power Automate, getting started with Power Apps isn't the most straight forward thing in the world. With that in mind, let's break down the options a bit.
First off, if you're not a Microsoft 365 subscriber and you want to build custom apps with the Power Apps platform, you have these choices:
Run single apps grants you a license for a single user to build and run a single app. This is priced at £7.50 per user per month.
Run unlimited apps grants each user the ability to build and run as many apps as they need. This is priced at £30.20 per user per month.
Microsoft also offers some additional functionality such as the AI Builder, which will cost £377.10 per tenant per month.
Okay – so that's the deal if you're going in fresh; but what if you're a Microsoft 365 subscriber or looking to become one?
Well, provided you're a subscriber to the Microsoft 365 Business Basic plan (starting at £3.80 per user per month) at the least, you'll be able to access Power Apps like so:
Build and run unlimited Canvas Apps
Access to the full 200+ data sources and connectors. These connectors mean you can build an app which integrates with third-party services like Facebook, Box, Twitter, and many more.
Make up to 2000 daily API requests
In our opinion, building Canvas Apps with the basic connectors and access to data across the Microsoft 365 will be more than enough for most businesses.
The best part? If you're already using 365, you don't need to pay a penny. Just go to https://make.powerapps.com/ and start creating.
That said, if you do want to add on the availability to build Model-Driven Apps based on the Common Data Service, we can always help you upgrade your subscription.
The power is in your hands with Microsoft Power Apps
Whether you're looking for a new way to streamline your day-to-day processes, or simply want to explore how a custom app might boost your business, Power Apps is the way to do it – code-free.
If you don't yet have a Microsoft 365 subscription to make the most of Power Apps, we can help. As a direct Microsoft Cloud Solution Provider, we can help you and your team get up and running in no time.
Fill in the form below or call us on 01865 59 4000 and let's get the ball rolling.