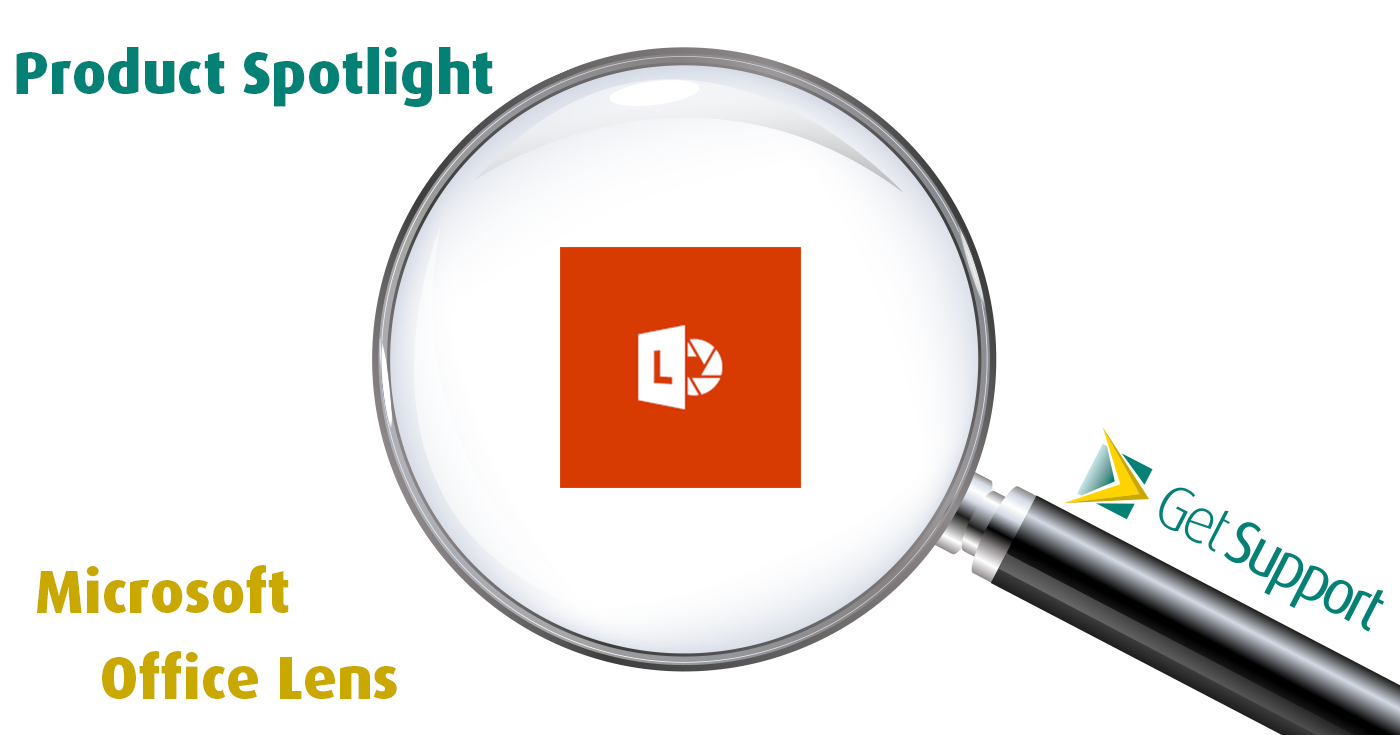 Executive Summary
Our Product Spotlight series on the Get Support blog puts some of the most useful apps for small businesses in the limelight to see what they do, how they work, and how you could use them.
In this edition, we'll shine a spotlight on the mobile scanner app for iOS and Android, Microsoft Office Lens.
Introduction
Pretty much everything is mobile these days.
Supermarket shopping? Check.
Movies and TV? You bet.
Ordering a pizza to your front door in a few taps and swipes? No problem.
But did you also know that your smartphone can take the place of a document scanner? We're not just talking about snapping a quick photo of an A4 sheet of paper, mind you, but a complete scanner app with all the accuracy you'd expect from a physical scanner.
We're talking about Microsoft Office Lens – and, for many businesses, it could just be an essential app for getting stuff done.
Let's learn more about Office Lens: the scanner in your pocket.
What is Microsoft Office Lens?
In the most basic sense, Microsoft Office Lens is a mobile app which allows you to scan documents, bank statements, receipts, whiteboards, business cards, and more with your smartphone. But to describe it as just a scanner would be reductive – it's far more than that.
Office Lens allows you to scan any real-world document or image in a matter of seconds. Once you've taken the scan, the app will auto-detect the edges of that document (or whiteboard) and the automatically correct the aspect ratio. So, even if your scan is taken at an angle, the app will still deliver a clean, accurate result.
With your scan taken, you can add annotations in the form of text or hand-drawn inking, apply filters to improve legibility, rotate, crop, and more. From there, you can save your scan as a PDF or export it to other apps including Microsoft OneNote, OneDrive, Word and PowerPoint.
4 ways Office Lens could help your small business
Those are the basics of Office Lens – but what can it really do for you on a day-to-day basis in your business?
Here are 4 of our favourite uses of Office Lens.
Quickly summarise meeting notes digitally by scanning whiteboards
Taking notes during meetings and brainstorming sessions, either in notebooks or on whiteboards, can be a pain at the best of times. If you have to transcribe or summarise those notes on a computer afterwards? It can be headache-inducing.
Office Lens can solve this elegantly by allowing you to snap a scan of the whiteboard or notebook at the end of the meeting, then effortlessly export it to your app of choice to share with the team. No paracetamol necessary.
Turn printed documents into searchable digital files in seconds
One of the coolest things Office Lens can do is automatically turn printed words into digital – and searchable – words in a Word doc.
So, for example, if you were to scan a letter with Office Lens, then export it to Microsoft Word in a couple of taps, the app would use text recognition to transcribe the printed words for you. From there, you can edit and search to your heart's content.
Even better, Office Lens will actually read and transcribe handwriting into digital text, opening the door to even more time-saving opportunities.
(Although we can't guarantee it'll work for doctors…)
Improve data security by keeping sensitive documents stored digitally
Keeping business data safe is more important than ever, and printed documents remain a significant security threat. All it takes is a forgotten briefcase or someone binning the wrong document to have sensitive data leak out of your company.
Office Lens solves this elegantly by allowing you to scan in your sensitive documents, store them safely in digital form, then destroy the originals.
Share any document via OneNote, OneDrive, PDF, Word, PowerPoint, and more
Another incredibly useful feature of Office Lens is its wide selection of export options – especially for a free app. Once you've scanned a document or whiteboard, you can make your changes in the app, then immediately export the scan to the source of your choice, including:
Your local photo library
PDF
Microsoft OneNote
Microsoft OneDrive
Microsoft Word
Microsoft PowerPoint
Outlook
Email
Immersive Reader
How to start using Microsoft Office Lens today
Microsoft Office Lens is available totally free for both iOS and Android smartphones.
Simply head to the relevant app store, search for the app, install, then start scanning. You don't even need to log in using a Microsoft account to save your files locally, as PDFs, or to the free version of OneDrive.
That said, if you do have a Microsoft 365 account with access to the Microsoft Office apps, you'll open up a world of new possibilities for exporting and working with your scanned documents and whiteboards.
Go beyond Office Lens with Microsoft 365
If the rich feature set of Microsoft Office Lens has you impressed, there's a lot more in the Microsoft stable of apps which could be equally valuable to your small business.
For a low monthly subscription, Microsoft 365 grants your business access to Microsoft Office, the Exchange email server, cloud storage via OneDrive, Microsoft Teams for collaboration, and so much more.
As a direct Microsoft Cloud Solution Provider, Get Support is perfectly placed to get you up and running with Microsoft 365 – and fast.
To get going now, simply fill in the form below or call the team on 01865 59 4000.