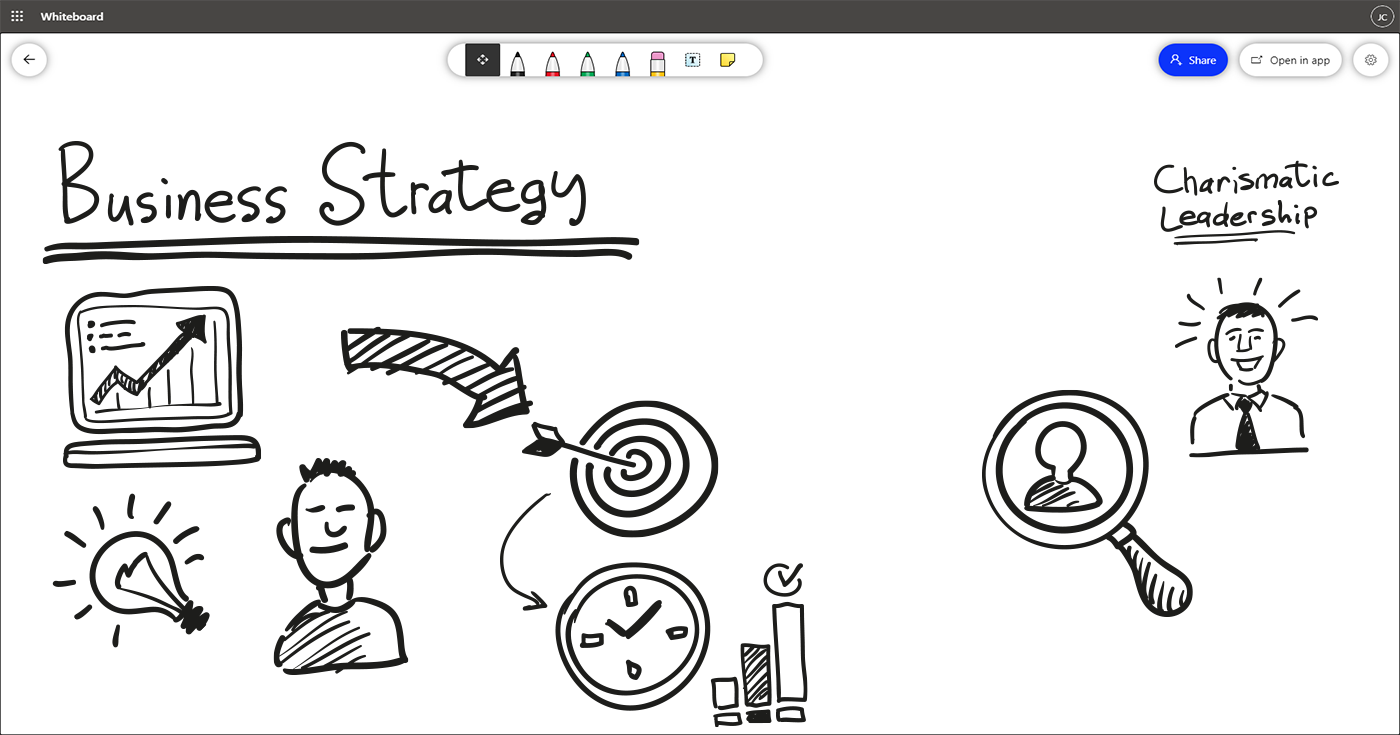 Executive Summary
Our What's That App? series on the Get Support blog delves into the detail of those lesser-known apps, many of which are available with Microsoft 365.
In this edition, we'll introduce you to Microsoft Whiteboard
Microsoft Whiteboard is cloud-based digital canvas app which enables teams to draw, sketch, or scribble ideas from anywhere in the world. Full Microsoft Teams integration makes it even easier to share your ideas instantly.
Introduction
Since the dawn of time, mankind has found a way to put pen to paper.
From cave paintings to cursive handwriting, visual communication is as natural to us as breathing. It's this instinct which underpins the focus for today's What's That App? feature.
As the name suggests, Microsoft Whiteboard is a digital whiteboard app which allows users to type, draw, scribble, stack, create shapes, and much more – all on an infinite cloud-based workspace.
Let's find out more about Whiteboard and how you might use it to boost collaboration and productivity in your business.
What is Microsoft Whiteboard?
Microsoft Whiteboard is a cloud-based digital whiteboard application which enables collaborative brainstorming on a whole new scale.
All Whiteboard users can share the same virtual canvas at the same time, whether they're in the same room, on their smartphone, or even a laptop halfway across the world.
Whiteboard supports input from touch-screen pens, touch, or keyboard.
It's as simple as drawing what you want and seeing it appear on the screen as though it were a piece of paper. You can add "ink" by simply drawing, insert images from Bing, add sticky notes, or even stack elements like images to flick through on the canvas.
Even better, anyone viewing the Whiteboard will see your changes appear in real-time on their screen. Pretty cool, right?
The benefits of Microsoft Whiteboard
So those are the basics of Whiteboard, but what could it do for your business?
Here are the best reasons to give Whiteboard a try with your team.
Visually brainstorm together, even when you're apart. Sometimes a video call or screenshare is just not enough. If you're a visual person, having an infinite canvas to express ideas and brainstorm virtually is worth its weight in gold.
Full integration with Microsoft Teams meetings. At any time during a Microsoft Teams meeting, attendees can click the Share button and launch a Whiteboard. From there, anyone on the call will be able to contribute and get scribbling. The resulting board will be saved in the main Whiteboard app for viewing later.
Share a digital canvas on almost any device. Whiteboard can be used with touch-enabled tablets or laptops (like the Microsoft Surface), any modern iOS device, or any Windows 10 device without touch using mouse and keyboard to add notes. It also comes pre-installed on the Surface Hub line of smart whiteboard products.
Stop and resume sessions anytime, anywhere. Once your team is done working on a whiteboard canvas, it'll be saved to the cloud automatically until you return to it, so there's no more fear of the dreaded whiteboard eraser (or having to take photos of the board at the end of the meeting).
How to start using Microsoft Whiteboard
Whiteboard is available as a free app for Windows and iOS, accessible to anyone with a Microsoft account.
That said, to really make the most of it – and to use the powerful web app – you'll want a Microsoft 365 subscription. Sharing a Whiteboard session is currently only possible for 365 users within the same 'tenant' (organisation), so if you want to brainstorm remotely – 365 is the best way to do that – though external access is in the roadmap.
Whiteboard is available as part of these Microsoft 365 business subscriptions:
Microsoft 365 Business Basic and above. Starting at £3.80 per user per month (exc. VAT) with annual commitment.
All Microsoft 365 Enterprise plans (F3, E3, E5). Starting at £7.50 per user per month (exc. VAT) with annual commitment.
Once you're a 365 subscriber, your users will instantly be able to log in and use the native or mobile Whiteboard app. However, to use to web app version, you'll first need to enable it from the Microsoft 365 admin portal.
Unleash your team's creativity with Microsoft 365
While Microsoft Whiteboard is free to use for anyone with a Microsoft account, it's at its best with a Microsoft 365 subscription – especially when paired up with the power of Teams.
If you've yet to discover the power of the Microsoft 365 suite, the Get Support team can help. As a direct Microsoft Cloud Solution Provider, we're ideally placed to get you up and running with Microsoft 365 and everything it offers.
Want to know more? Fill in the form below and we'll be in touch. Prefer a good old-fashioned natter? Call us anytime on 01865 59 4000.