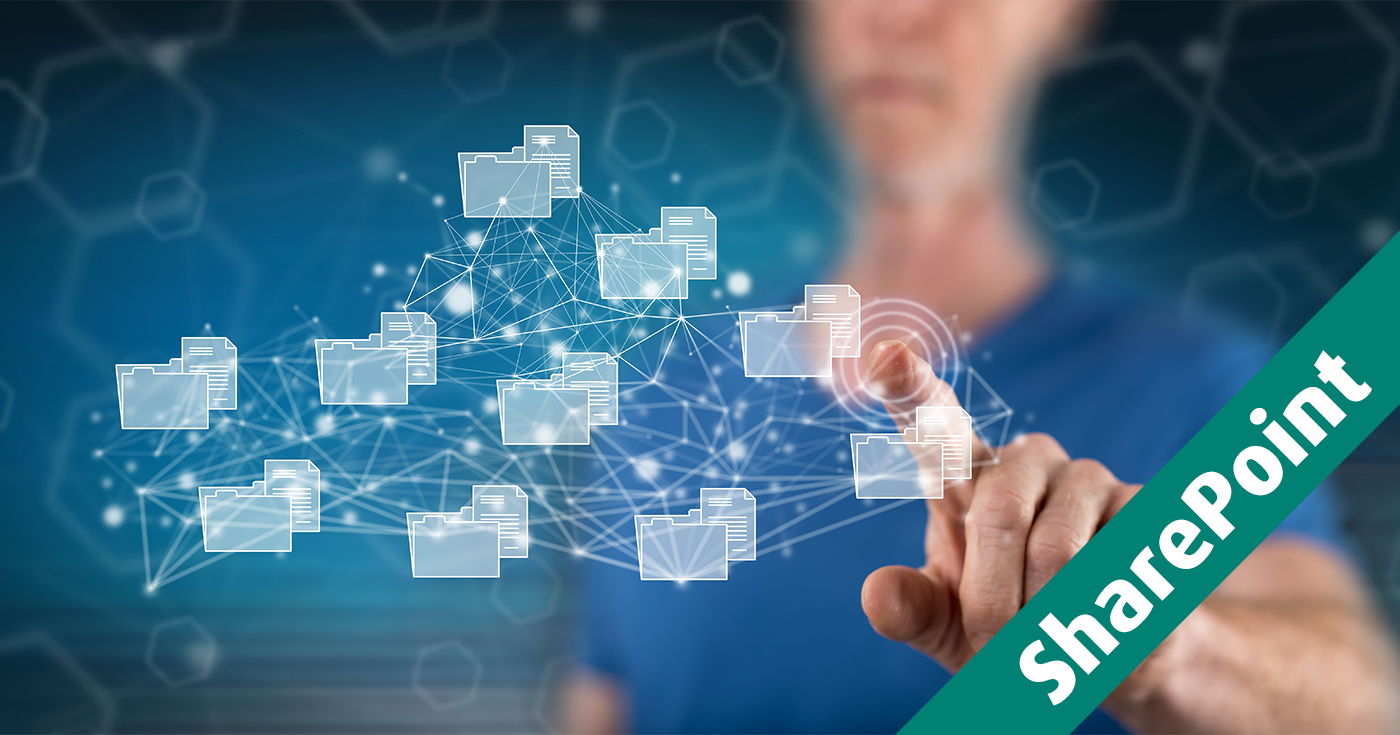 Executive Summary
Our What's That App? series on the Get Support blog delves into the detail of those lesser-known apps, many of which are available with Microsoft 365.
In this edition, we'll introduce you to Microsoft SharePoint.
Microsoft SharePoint is one of the most expansive of Microsoft's stable of apps. Ostensibly a file sharing and collaboration tool – it does a lot more than that.
Introduction
Most of the apps we've reviewed in the What's That App? series have been relatively small in scope: a video sharing service, perhaps. Or a social network for your business.
But the app we're focusing on today dwarfs them all.
SharePoint is one of the most expansive and feature-rich tools available as part of the Microsoft 365 subscription. It provides a central location for much of the combined knowledge of your business, bringing people and data together and underpinning much of your digital activity.
Now, we know that description is not exactly plain English, so let's do something about it by diving into the detail.
What is Microsoft SharePoint?
Microsoft SharePoint is billed by its developers as a "document management and storage system" and a "collaborative platform".
Both of these are 100% true – but there's so much more it can do, too.
Here are just a few of the things SharePoint has to offer businesses:
File sharing and internal content management
Company intranet / internal website
File hosting via OneDrive for Business
Collaborative software to create "team sites" on your intranet
Quite the list, no? In a sense, SharePoint operates as a central hub for your business, bringing data and people together in one place.
Not only does SharePoint have a variety of features businesses can take advantage of – it also comes in a number of editions:
SharePoint Server
SharePoint Standard
SharePoint Enterprise
SharePoint Online
As you'd imagine, each of these editions also offers slightly different features. We don't have the time to explore every single one here, so we're going to focus on the version which is bundled with Microsoft 365: SharePoint Online.
An introduction to SharePoint Online
SharePoint Online is the most popular edition of the platform among businesses small and large.
It's the version you'll find included with most business Microsoft 365 plans, and it offers a wide variety of features which can transform a company's collaboration and knowledge sharing.
What makes the Online edition different to others? Quite simply, it's hosted on Microsoft's servers as opposed to your own. This is an advantage in the sense that you don't need to maintain your own server, but unless you need to host all of your data on-site, there's no question that the Online edition is the best choice for most small businesses.
One of the big benefits of SharePoint Online – especially in 2020 – is that it's deeply integrated with Microsoft Teams. A communication and collaboration tool used by millions, Teams allows users to upload files and work on them together in real time. When you do this via your Microsoft 365 subscription, the files themselves are actually being hosted on Microsoft SharePoint in the back-end Document Library.
Whether your team is building a Document Library via Teams or directly in SharePoint, another benefit of Online is that these files can be accessed in a number of ways, including:
Web browser (naturally, Microsoft recommends you use Edge)
The SharePoint mobile app
Within Microsoft Office applications (Word, Excel, etc.)
Microsoft OneDrive for Business (each user essentially has their own personal Document Library with this app)
How to start using Microsoft SharePoint
There's much more to learn about SharePoint, but if you're already a 365 subscriber, you can (probably) get started right away.
The Microsoft SharePoint cloud service is included as part of the following Microsoft 365 subscriptions:
Microsoft 365 Business Basic and above. Starting at £3.80 per user per month (exc. VAT) with annual commitment.
All Microsoft 365 Enterprise plans (F3, E3, E5). Starting at £7.50 per user per month (exc. VAT) with annual commitment.
Broadly speaking, unless you're on single-app or Office-only plans, you'll have access to SharePoint. But how do you make the most of it?
Make the most of Microsoft 365 with Get Support
We've only scratched the surface of SharePoint in this article, so if you'd like to know more about how it could streamline your business knowledge management and collaboration, we can help.
As an IT support company with two decades under our belt, there's nothing we don't know about SharePoint – from setup to configuration and everything in between. Call our experts today on 01865 59 4000 for some personalised advice in plain English.