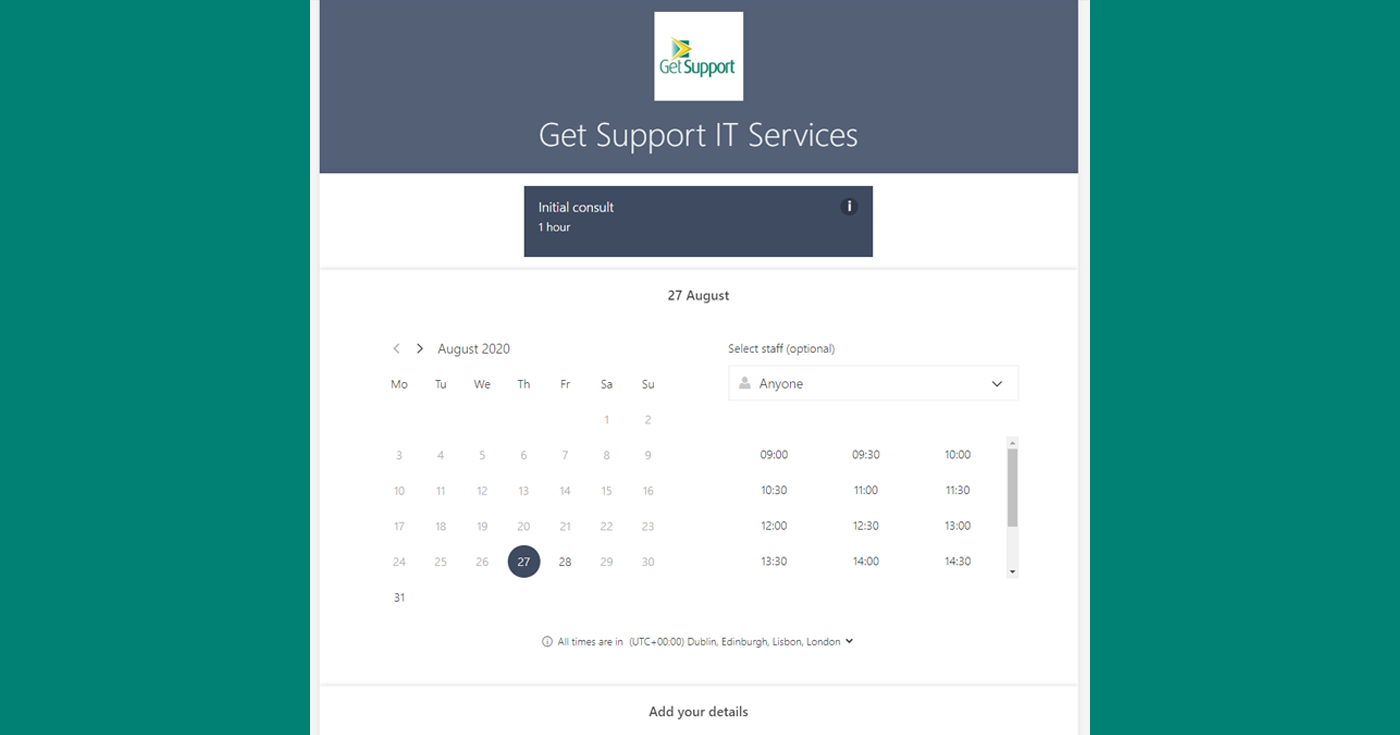 Executive Summary
Our What's That App? series on the Get Support blog delves into the detail of those lesser-known apps, many of which are available with Microsoft 365.
In this edition, we'll introduce you to Microsoft Bookings.
Microsoft Bookings is an appointment scheduling and management tool designed to help customers book appointments with your business. It's geared towards businesses which require regular meetings with customers, like lawyers, hair salons, dentists, and more.
Introduction
How much time do you spend arranging or chasing up client appointments?
If you're in the service industry, or any business which relies on meeting clients regularly, you'll know this can be a real pain point. Whether it's confirming that they're going to show up or simply trawling through existing appointments to find slots – it's a real chore.
This is the problem that Microsoft Bookings was born to solve.
Let's find out how this app, available as part of select Microsoft 365 subscriptions, could help streamline your business (and prevent headaches, too).
What is Microsoft Bookings?
Microsoft Bookings is an appointment and meeting scheduling tool developed by Microsoft and first launched in March 2017.
Bookings delivers a quick and easy way for businesses to implement an appointment booking system into their day-to-day process. With Bookings, you're able to create a dedicated web-based portal from which your customers can select the appointment they'd like to make, then choose a date and time from a calendar with live availability.
Even better, once they've made their booking, they'll be able to use the same portal to cancel, reschedule, or create a new booking – you don't have to lift a finger.
Does Microsoft Bookings integrate with Microsoft Teams?
With what feels like every business now using Microsoft Teams to collaborate digitally, it's reassuring to know that Microsoft Bookings is also fully integrated with this platform.
Whenever an appointment is booked via Microsoft Bookings as an online meeting, it'll also appear in the dedicated Bookings app which you can add to Microsoft Teams. Just like other types of meetings, attendees will be sent a link to join the Teams meeting as they normally would.
If you're a big Teams user, the integrated Microsoft Bookings app will let you do everything from creating dedicated calendars (e.g. for specific teams), assigning staff to appointments, and much more – all without leaving Microsoft Teams.
How to start using Microsoft Bookings
Want to start using Bookings right away to streamline your appointments and save time running your business? You might already have what you need.
If you're a Microsoft 365 Business plan subscriber, you'll need one of the following plans to start using Bookings right away:
Microsoft 365 Business Standard, £9.40 ex VAT per user per month, with annual commitment.
Microsoft 365 Business Premium, £15.10 ex VAT per user per month, with annual commitment.
You can also access Bookings if you subscribe to one of the following Enterprise plans:
Microsoft 365 E3, £28.10 ex VAT per user per month, with annual commitment.
Microsoft 365 E5, £48.10 ex VAT per user per month, with annual commitment.
Tip: if you can't access Bookings via your Microsoft 365 apps list, check that it's enabled in the Microsoft 365 admin centre. For some plans, including Enterprise E3 and E5, Bookings may be disabled by default.
Are you getting the most bang for your buck from Microsoft 365?
Here at Get Support, we're on a mission to ensure all of our customers get the most from their Microsoft 365 subscriptions.
If you'd like to make sure you're making the most of your plan – or you're yet to get started with Microsoft 365 – we can help. As a direct Microsoft Cloud Solution Provider, there's no middleman to worry about, meaning we can get you the very best deal.
Call today on 01865 59 4000 to learn more about what Microsoft 365 could do for your business.