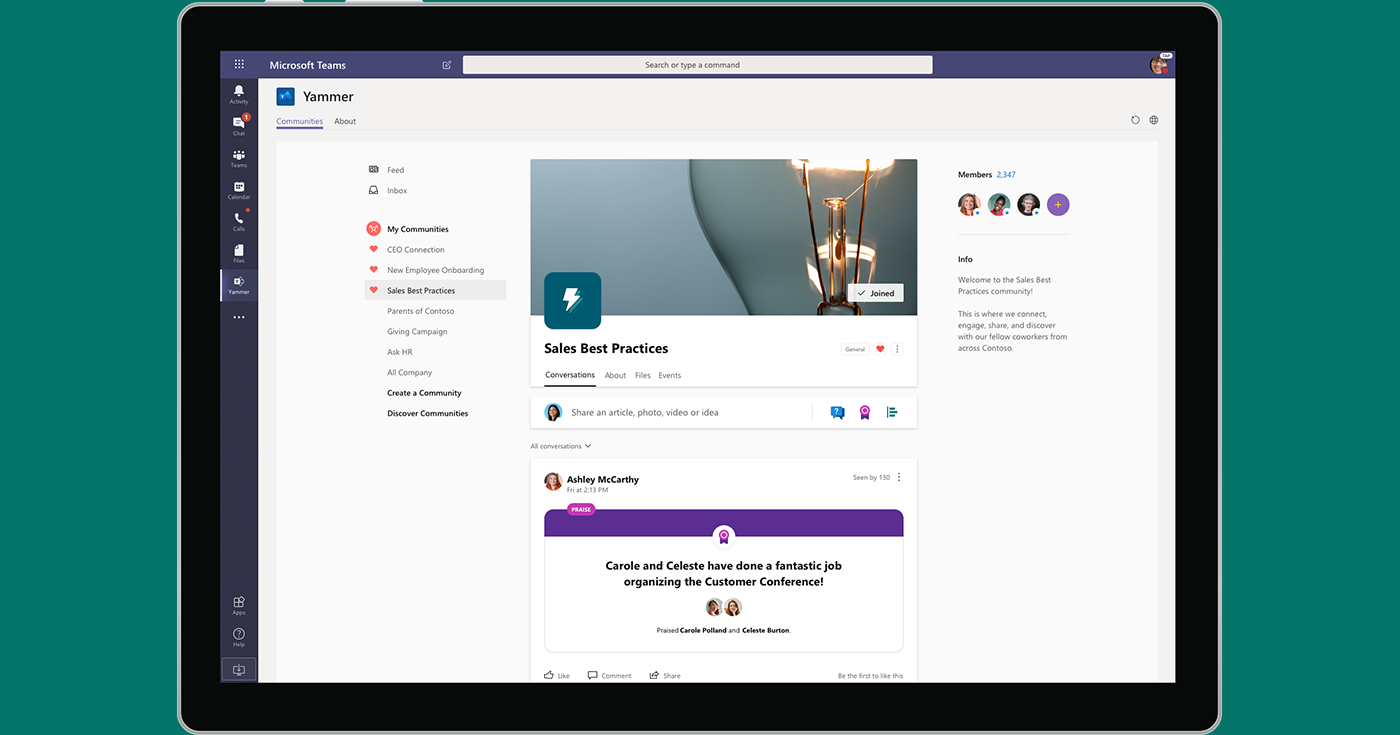 Image credit: Microsoft.com
Executive Summary
Our "What's That App?" series on the Get Support blog delves into the detail of those lesser-known apps, many of which are available with Microsoft 365.
In this edition, we'll introduce you to Yammer: the social network for your business. Yammer is available with most Microsoft 365
Yammer is a social networking service built for businesses and enables companies to create supercharged intranets with rich social features. It's aimed at medium-sized businesses up to large enterprises.
Introduction
Growth is perhaps the most common goal for a business.
More customers, more employees, a bigger bottom line. Sounds good, right? Right. But growth can also come with its fair share of challenges – especially around internal communication.
Enterprise-level businesses are a great example here. With thousands of employees spread across different geographies, how can you ensure everyone stays in touch?
Microsoft seems to have the answer, and it's called Yammer.
Let's see what all the fuss is about.
What is Yammer?
Available with most Microsoft 365 plans, Yammer is a private social networking tool for large companies.
Put simply? It's like having a dedicated instance of Facebook for your business. Yammer is private by design, meaning only users with an email address from within your domain will be able to sign up and use the service. Users can set up profiles, comment on each other's posts, like, share, and do all of the things you'd expect of a modern social network – all within the confines of the company network.
Interestingly, Yammer wasn't originally designed as a social network for businesses. In fact, it was launched in March 2008 as an independent communication system for the genealogy website Geni.com.
Through a series of twists and turns, the platform ended up being acquired by tech giant Microsoft in 2012 at a cost of $1.2 billion.
Yammer has consistently been in development in the years since.
In 2019, Microsoft launched what they refer to as 'The New Yammer', which is based on Microsoft's Fluid Design System. It also enabled full integration for Yammer with Microsoft Teams.
Why do businesses use Yammer?
The basics of Yammer should be self-explanatory – social connection, organisation-wide communication, and so on – but what else can Yammer do?
Yammer allows for company leadership to publish posts and updates to be seen by the entire organisation.
Users can watch and participate in live-streamed events such as townhalls and all-hands meetings.
Just like Facebook, companies can create Groups for users to join and share interests, ideas, and knowledge.
Yammer is fully integrated with the 365 ecosystem, including Microsoft Teams and SharePoint. Users can even collaborate on Office files directly from Yammer using the Office web apps.
Leadership can leverage analytics data via the Office admin centre to see how their users are interacting with one another.
Yammer is available as a desktop, web, and mobile app.
How to start using Yammer
Yammer is designed from the ground up for large scale deployment.
Yammer Enterprise included with the following Microsoft 365 plans: (prices quoted are for annual commitment)
Microsoft 365 Business Basic. Available for £3.80 ex VAT per month.
Microsoft 365 Business Standard. Available for £9.40 ex VAT per month.
Microsoft 365 Business Premium. Available for £15.10 ex VAT per month.
Microsoft 365 E1. Available for £6 ex VAT per user per month.
Microsoft 365 E3. Available for £28.10 per user per month.
Microsoft 365 E5. Available for £48.10 per user per month.
All of the above plans also include a host of other services included email (Exchange), SharePoint (to share files and data), OneDrive (your personal "My Documents" in the cloud) and Teams (collaboration and video conferencing).
For more details on the Microsoft 365 Business plans, which are aimed at businesses with under 300 users check out The A-Z Guide to Microsoft 365 for Small Businesses.
Want to make the most of your Microsoft 365 plan? Ask the experts
If you're a Microsoft 365 subscriber, you'll already have access to plenty of apps and services you might not even know about. Keep an eye out for the next in our What's That App? series to discover more, but if you'd like to better understand what's included with 365, we can help.
As a Microsoft Cloud Solution Provider, our expert team is perfectly placed to assist you in making the most of your 365 plan.
Call today on 01865 59 4000 and our friendly team will be happy to help – and always in plain English.